México City was fun but, for us, it was a stop over to our first true destination, Guanajuato, which is located northwest of México City. It's a short plane ride clocking in at 55 minutes, a drive just under 5 hours and a bus ride just over 5 hours. Europe is known for it's short and inexpensive flights within the region. While México has a semi-similar air set up, it's not México's top mode of transportation, in service or experience.
México's top means of transportation throughout the country is their bus system but what I'm talking about are their luxury buses. I'm not talking Greyhound buses but that's the best way for US citizens to grasp the concept. México has a luxury bus system that travels throughout the country. We were excited to take this journey for ourselves. This post is specifically about our experience traveling from México City to Guanajuato though much of it applies generally to Méxican luxury bus travel, no matter your beginning and ending cities.
Choosing a Bus Company
México has several bus transportation companies and we chose ETN. ETN buses aren't your regular buses. They can be "regular" buses but most of them are double-decker buses like you picture driving around London except they're not bright red and your not on a tour, per se. I kept hearing about these buses prior to arriving in México but I didn't truly know what to expect.
The first thing to note is that the bus station you depart from depends on the bus line you choose to travel. There's not one central bus station in the city for all of the buses. The bus station for ETN is Central del Norte Bus Station or Autobus del Norte.
The Day Has Come
On departing day we got up early, tidied up the Airbnb, walked to the corner store (I love being able to say that..I missed that so much living in the Atlanta suburbs) and got some snacks for the 5 hour ride. We quickly returned to the AirBNB, grabbed our bags and loaded into our Uber for the next step in our journey. I don't know if you read my last post but in case you didn't, 1. go read it now and 2. México City traffic is crazy! Because of this I didn't know how much time to give us to get to the bus station. I went with two hours prior to bus departure but that wasn't necessary as traffic was flowing the best I had seen in our time in CDMX. I believe it was due to the time of day, though, as we left around 9 am. If you ever take this journey and leave later in the day I definitely recommend allowing a good amount of time for traffic.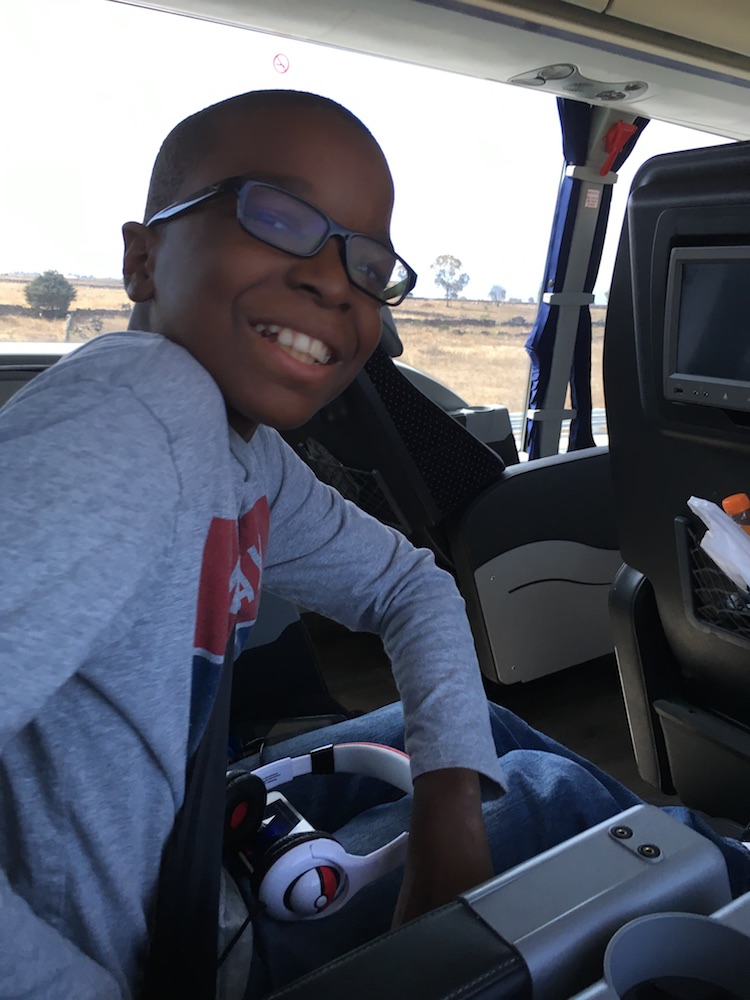 Getting Tickets Our Tickets Through Mix Ups
We walked into the station and turned to the right, where we were advised that the ETN counter sat. I went up, with all my confidence and immediately asked "Habla inglés?" and quickly received a "no". As the air of my confidence let out I scrambled to think of how to get my bus tickets. I didn't want using Google Translate to add 20 minutes to the conversation. "Ahh, dos personas, yo y un niño to Guanajuato" My spanglish was in full effect but it worked enough to get the ball rolling.
Take note, there are two "Gua" cities in México, Guanajuato and Guadalajara. Make sure the agent types in the correct city as when I was entering our names in the system, per the agent, I saw that we were headed to Guadalajara. Guadalajara?? No way, I quickly corrected that!
The Run Down
The price of the tickets vary based on your starting and ending destinations. The two tickets from CMDX to Guanajuato for an adult and child cost less than $50 USD in total.
Tickets are able to be purchased in person with minimal advanced time. We arrived an hour before our departing bus. You can also purchase tickets on the ETN website but it's glitchy. At times, it was showing that there were no available buses on the date we were traveling. (Talk about a mini-freakout. Seriously, I can show you the texts to my friend as proof.) Your best bet is to walk in and purchase.
Got Tickets…Now What?
There is a waiting room which has a few stores to purchase snacks, magazines and more.. Twenty to thirty minutes prior to the boarding time, passengers can go through security. It's similar to airport security as your bags go through a scanner, you must remove extra items such as belts, coats and more, but thankfully you can keep your shoes on. What is it about the shoes, anyway?
When our bus arrived to the station our destination city was called out. We then lined up with other passengers to show our tickets to the agent. They take your bags to load into the bus and will give you a ticket that matches with the tag they put on your bags. Don't try to board the bus before they give you this…like I did. :-/  It's customary to tip the bagger around $10 pesos. You will also be given a snack bag with your choice of drink and a doughnut. (My son advised that the doughnut was not the business so proceed at your own risk.) Then board the bus.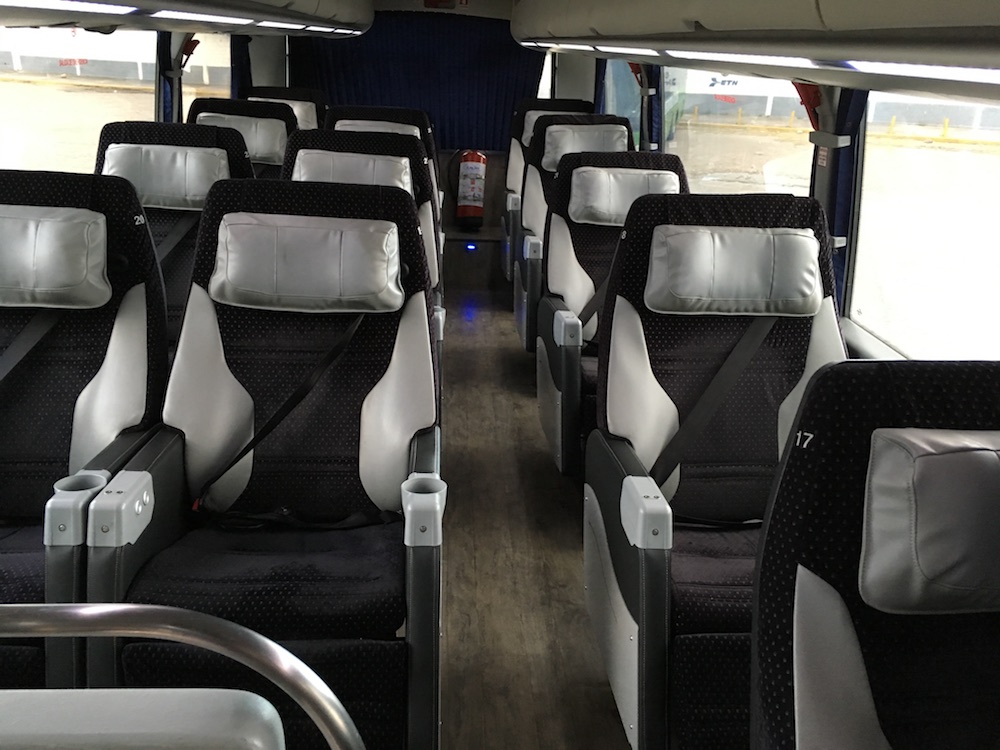 Let the Fun Begin!
We haven't seen any buses like this. As I said, the bus is double decker. When we climbed the stairs we realized just how spread out the seats are. There's no cramming people in a pen like they do on the planes. The seats have so much space that they recline like your Lazy Boy at home. They go back fully and the foot rest rises to a position where you are almost laying. There's enough space over head and under the seat, in front, for any carry on bags you may have. The seats are equipped with plugs, entertainment (movies and such), headset plugs and the bus has wifi.
Once settled, there's nothing else to do but enjoy the ride and what a ride it is! Traveling through the Mexican countryside is amazing. There's so much beauty, so many ways of living and you really get to see it all. My son was amazed by the beauty and while that isn't saying a lot because he does appreciate beauty, it's saying something as he's still a 10 year old boy!
If ever traveling through México, before automatically jumping to check airfare, give the luxury buses a chance. They may surprise you. As much as I had heard about them, they still pleasantly surprised me!