México City is the 2nd largest city in the world! It has a population of over 21 million people, it's home the most museums in the world. México City sits 8,500 feet above sea level, has the 2nd largest Zócalo (city square) in the world, and has a park twice the size of New York City's, Central Park.
MÉXICO CITY!
Viva México!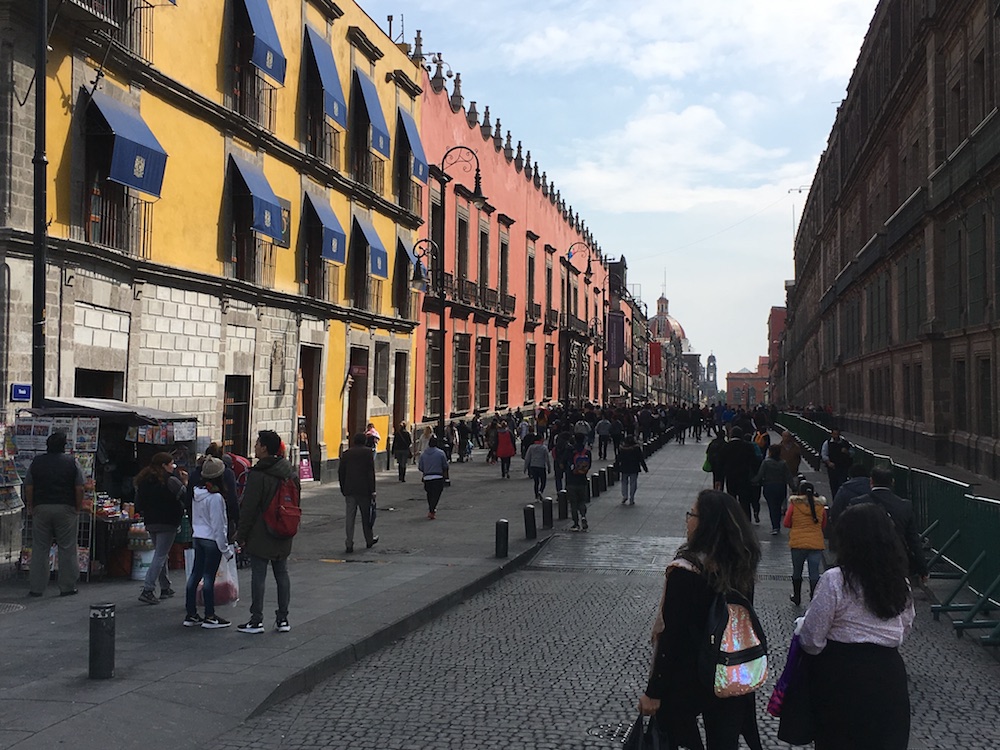 Ok, first, did you know all (or any) of that about México City? I have no shame in saying I didn't prior to a few weeks ago. In fact, until November of 2017, México City was on my list of "Do Not Visit EVER" cities! Why? Because all I knew of México City was of ransom kidnappings and cartel occupancy and I didn't bother to learn anything else. Ransom kidnappings was enough for me. I mean, did you watch Man on Fire??? I can admit, though, that I was wrong. Oh, so incredibly wrong and this post is about all the reasons why México City is a great place to visit. Hopefully, you too, will give México City a chance.
Also Known As CDMX
México City is also referred to as CDMX. This name change went into place in 2016 by the Méxican President. CDMX stands for Ciudad de México which, in English translates to México City (or quite literally, City of México). Now that this is clear, if I reference CDMX going forward please know I'm talking about México City.
I found myself going to CDMX as a stop through to another city in México. The plan was to fly into CDMX and catch a bus to the next city but I was soon encouraged to stay a few days since I would be there anyway. On top of that fact, catching a plane with a layover and immediately hopping on a bus afterwards was a lot so I heeded the advice.
Bigger Than NYC, You Said?
México City is like Manhattan and the Bronx but the size of Dallas (it felt more like the size of Houston to me). To say it's overwhelming is an understatement. I believe the city is comprised of 12 or 13 different neighborhood pockets that make up the whole of the city. We stayed in an area called Centro Historico (Historic Center), which is quite a hit or miss area. One street may be nice and jazzy and the next street feels so questionable that you don't want to walk it. Fortunately, our street was a nice, funky street.
Choosing a neighborhood to stay in is quite an important task as the traffic in CDMX is CRAY-ZY! Crazy, for real! Like to the point that I can truly say, I have never seen anything like it. Not in NYC, not LA, not Atlanta. It's congestion all.the.time. It's Brick City taken to another level. There are people everywhere. BUT…there's so much to do in México City that it's almost hard to make this a mini-guide but I'm covering things we personally did.
Things To Do in Centro Historico.
You must visit the Zócalo, if for no other reason than to say you did. As stated in the opening sentence, the Zócalo in México City is the 2nd largest in the world. It is said to be able to hold 100,000+ people. A zócalo is the main square in town in many Mexican cities. During non-touristy and non-holiday times, the Zócalo can be pretty empty and you're able to actually see just how large it is. During holidays the Zócalo is decorated and festive; celebrations take place there and it's a location of fun and happiness. It is definitely something to visit, no matter what time or month you go.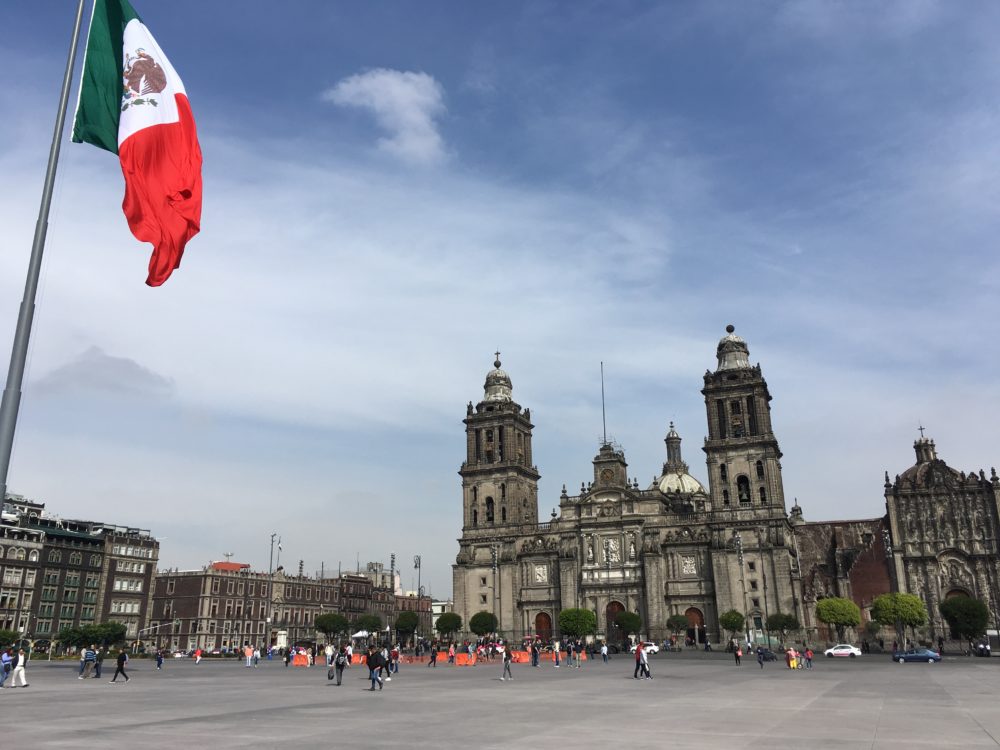 Templo Mayor
Surrounding the Zócalo are many other sights to see, including the Templo Mayor. According to the MET Museum's website, "The Templo Mayor (Main Temple) in Tenochtitlan, capital of the mighty Aztec empire, was located in the center of the city, where the most important ritual and ceremonial activities in Aztec life took place." Tenechititlan is what is now México City and these ruins sit right behind the Zócalo for exploration. It's an amazing ruin to see and to grasp the fact that it's right in the middle of such a bustling city. The Templo Mayor also has a mini-rendering of what the city looked like back when it was Tenechitilan for perspective. You won't regret taking some time to visit this ruin.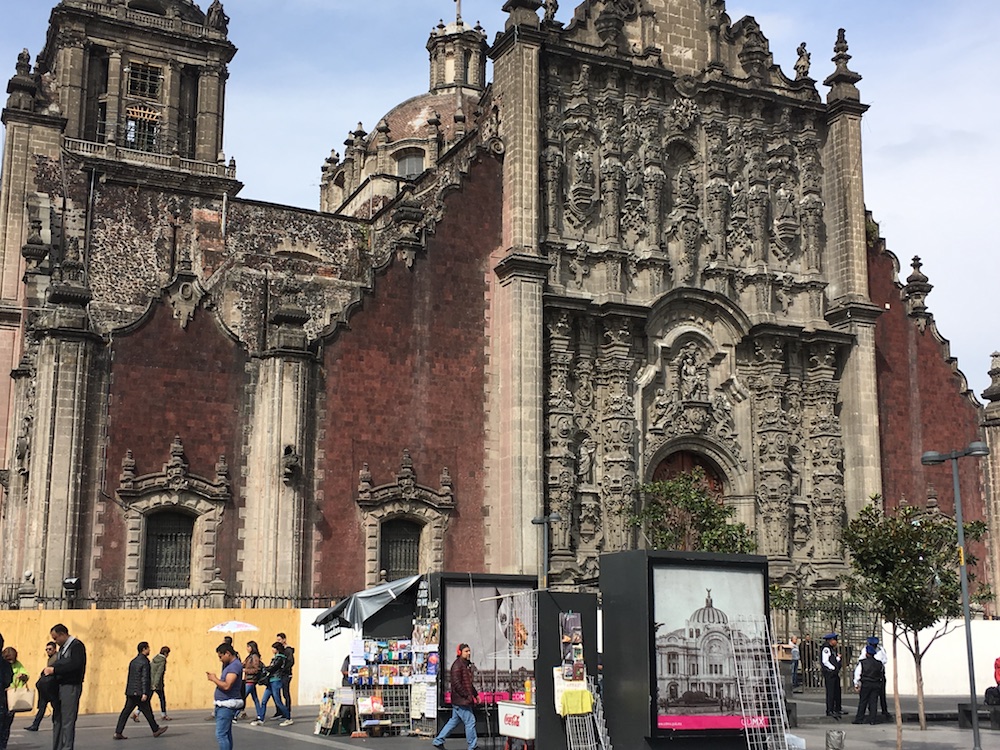 Metropolitan Cathedral
Also surrounding the Zócalo is the Metropolitan Cathedral (Catedral Metropolitana). According to Sacred Destinations, "The Metropolitan Cathedral (Catedral Metropolitana) in México City is the oldest and largest cathedral in all of Latin America." (This is where my son had his "I want to go home…back to ATLANTA!" moment. If you didn't get a chance to check that out click here for the deets.)  This cathedral is definitely something to see. If you think you're only able to see amazing cathedrals in Europe then step into this one. You'll see just how wrong you are. The cathedral provides digital tours that explain the history as you move around. Head around to the tour desk to the left of the initial "prayer area" to secure a digital tour. There are many different areas of the cathedral to see. Just beware to be respectful of people actually coming to the cathedral to say their prayers, respects and repentances. The cathedral is actually still in use.
Checking Out Reforma
Reforma is an area a bit in the northern part of CDMX. It's so interesting because as you go from one area to another the vibes change so dramatically, which is exactly how I felt when we came out of the "tunnel" into Reforma. It was like, "wow, where are we and how did we get here"? Why such a response? After being in Centro Historico, which is historic, a bit of a hit or miss, and lots of blue collar businesses, etc., Reforma is sleek and modern. It felt like a financial district, if you can grasp a vibe by thinking of that.
We actually stumbled into Reforma as I was seeking an ATM but once I realized where we were we took advantage of it and you should too. You see, Reforma is home to the Angel of Independence and you should definitely check her out. She's really just an angel but her meaning and beauty stand out.
Angel of Independence
Here's a brief history on the Angel of Independence: "El Ángel was built in 1910 during the presidency of Porfirio Díaz by architect Antonio Rivas Mercado, to commemorate the centennial of the beginning of México's War of Independence. In later years it was made into a mausoleum for the most important heroes of that war. It is one of the most recognizable landmarks in México City, and it has become a focal point for both celebration or protest."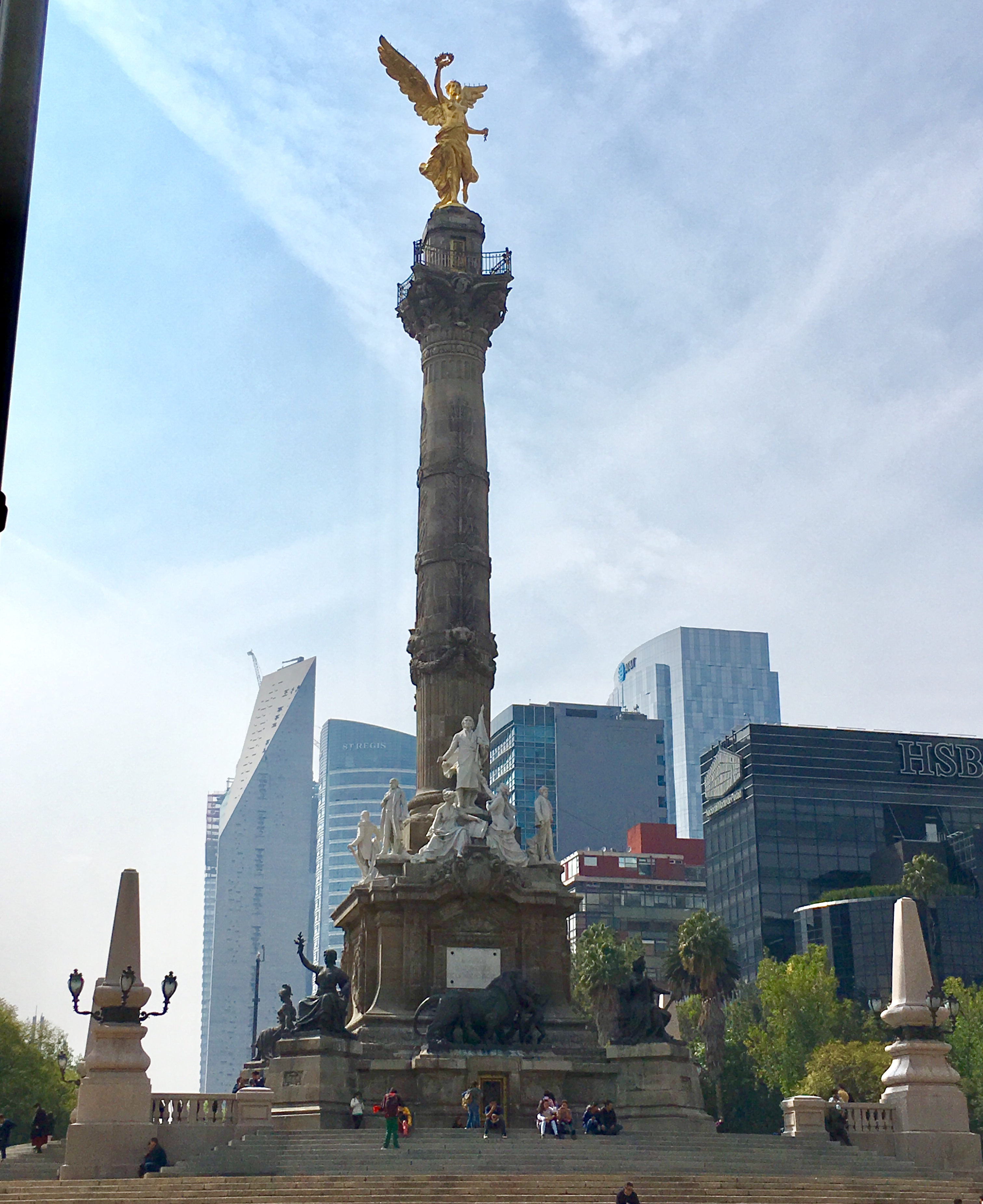 Know Where Your Embassy Is
Reforma is also home to the U.S. Embassy. You can take a tour of the embassy which I didn't know until we walked by. I just think you should know it's there. It's one of those things to always know when heading to another country.
While browsing around we stumbled into a cute little restaurant which is part of the Sheraton Hotel – México City, directly across from the U.S. Embassy, called Manhattan. Manhattan serves very American food and provides American service (quick, immediate service, which isn't typical Méxican service). I know, I know…who goes to México to eat American food, right? Well, there comes a point where you may say, "I just want to feel the comfort of home, even for one hour. I just want some food I know and a menu I can read". If you get that urge (which I totally did) this is a good place to do that. One thing to know, though, is that with the American food and service, you also get American pricing. Enjoy!
Last, but not least, (at least for this post) is the neighborhood of Condesa. We stumbled upon Condesa as we were taking an Uber to find Chapultepec. Condesa is so funky and fun; it's boasts of tree-lined streets (a rarity in México City) and the buildings (mostly 3-4 story apartment buildings and bodegas) are unique and modern. I've heard that many American expats live in Condesa, and while I wouldn't think I'd want to move to another country to be around a bunch of Americans, I can see why they gravitate towards this area. If you are overwhelmed by the hustle and bustle of CDMX or you just can't take another block of concrete, head to Condesa for some relief. (I'm so not kidding.) One of the best things about Condesa are the parks. Real parks! You many think I'm being dramatic but I didn't see a ton of parks so I was excited.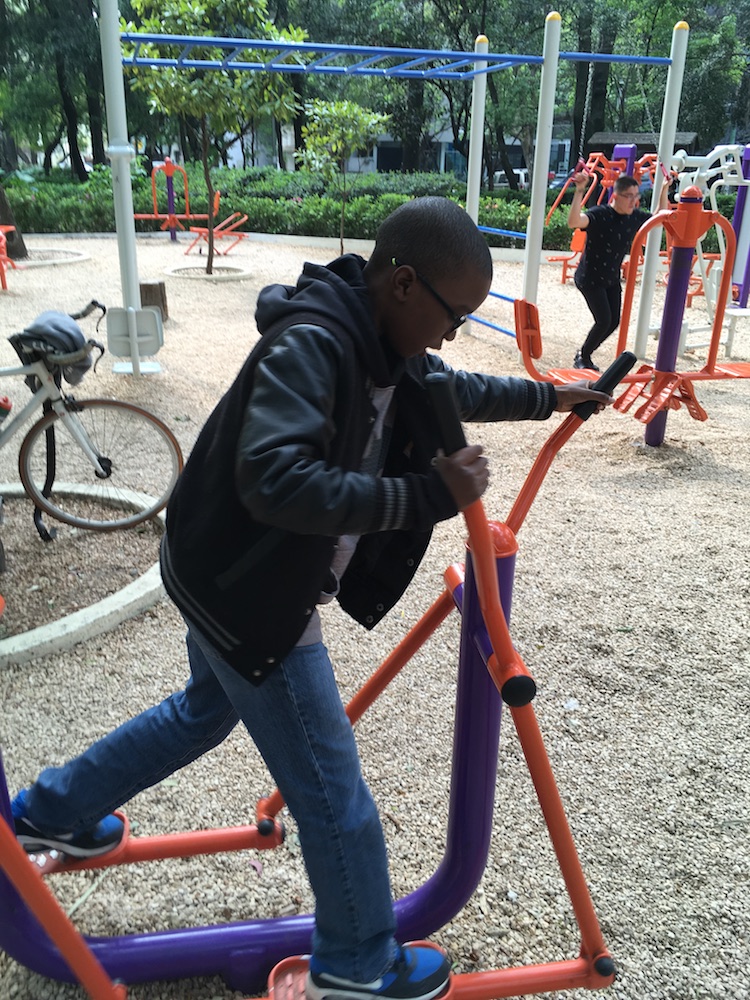 Parque México Is A City Gem
We found one gem of a park by complete accident but you should go on purpose. Parque México. This was the cutest, most serene, lively park. It's not a big park but it's laid out so well. People love it and hang out all times of day. There were kids (in the large gated children's play area) to young teenagers, in love, sitting in the canopied benches, to guys in their late teens/early twenties working out at the "gym". Yes, I said gym. This was so amazing to me because I had never seen anything like it…the park had built in gym equipment; all they were missing were weights. (What a way to promote health!) On the other side of the park was a pond (with low water but real ducks and geese) and an area where people were playing fútbol (soccer for, us, Americans). I highly recommend taking some time to stop here in the midst of a busy day.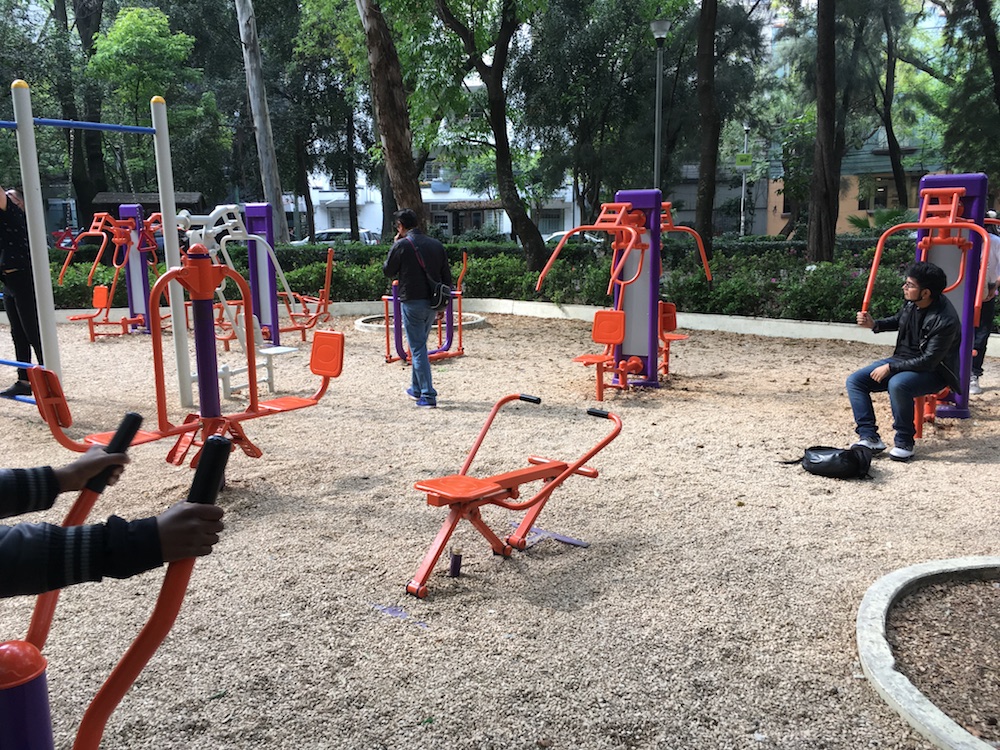 Bosque de Chapultepec: México City's Central Park
I'll be honest and say I'm not sure if Bosque de Chapultepec is in Condesa but if it isn't, it changes areas simply by being across the street. Bosque de Chapultepec is also known as Chapultepec and at over 1,600 acres, it's not only the largest park in the city but is one of the largest parks in the Western Hemisphere. The park contains five museums, a zoo, a castle, a lake and more. It's a beauty. Take some time here to walk the grounds and enjoy all there in to enjoy. There was even a photo commemoration for Canada's 150 year celebration as we walked into the park. The pictures were beautiful. I'm sure they'll have something different to welcome you so you'll have a surprise waiting.
All in all, this is just a small part of what México City has to offer. It's my hope that it helps you get started on your visit to México City. Also, be sure to find some other areas to explore as there are so, so many.
Wait, Don't Forget Frida Kahlo
I can't close without sharing about the Frida Kahlo Museum. While I haven't visited, personally, I have been told that this museum, in the area of Coyoacán (in the southern part of the city) is definitely worth the trip.
Have an amazing trip! If you've been to Mexico City what are some "must dos" on your list? I'd love to know!
P.S. If you're looking to book a trip to México City, my travel agency bTripping can and will plan an AH-mazing trip for your family! I look forward to creating your next trip.