Isla Mujeres was a "must do" item for me on our last trip to Playa del Carmen.  My son and I trekked it up to Isla from Playa on a day adventure! (For details on the journey, including the route to take and the costs, check out Isla Mujeres: Like a Boss Part 1.) I have to tell you. The day started like any other day that my son thinks my ideas are crazy. This is never fun. It includes pouting, walking slow and mumbling. Ugh!! But the day ended with laughter, hugs and a "thank you mom for bringing us here!" Quite a turn around, huh? It's because our day was awesome!
There's so much to do on Isla Mujeres. People actually choose this little island as their whole vacation destination. They book their resorts here and stay for a week (or more!) My son and I limited our trip to a day trip but it was well worth it. If you ever decide to venture to Isla, here are some ideas to help make it great.
Rent a Golf Cart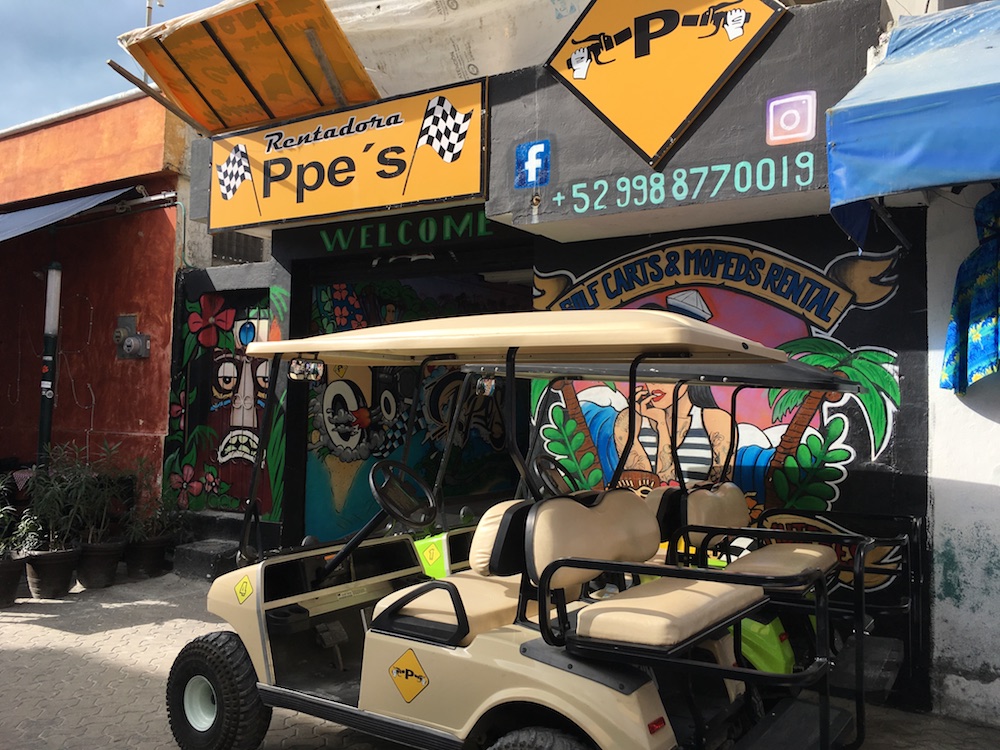 I mentioned in my previous post, Isla Mujeres: Like a Boss Part 1 that, prior to boarding the ferry I saw the option to rent a golf cart. This was a big reason I wanted to go to Isla Mujeres (I know, I know…so nutty!). I paid the Ultramar guy before loading onto the ferry. He gave me a receipt and a map that guided me to Ppe's. I noticed that he could have directed me to any of several golf cart rental locations so I'm not sure how that works, exactly.
We ventured to Ppe's which was a bit confusing having never been on the island. Once we found it, the guy at the counter (not sure if he was Ppe) got us a cart and moved it to the street. After a quick driving tutorial, he gave me the key and we were off! Something to note – They kept my drivers license and the rental paper was my "temporary license" while I had the cart. I was taken aback at first but it was returned with no issue.
I'm telling you, hands down, the golf cart was my son's absolute favorite part of the day! It sounds so ridiculous but I'm serious. He loved riding in the wind with no doors and seeing everything. The feeling of rolling around with the cars and scooters was so fun. Being able to explore the island without hailing taxis was a freedom we enjoyed. If I had to, I would say Isla just isn't the same without a golf cart rental. Lol!
Explore Downtown
Downtown Isla Mujeres is on the north part of the island. Upon exiting the ferry port you walk directly into downtown. If fact, at first I thought that was the whole island. Downtown is the tourist trap. It's where the people will try to entice you into their stores. It's where you'll spend all your money. But it's not to be missed. On top of that, it's where the food is! We had a great time wandering around, looking at souvenirs, getting ice cream and exploring.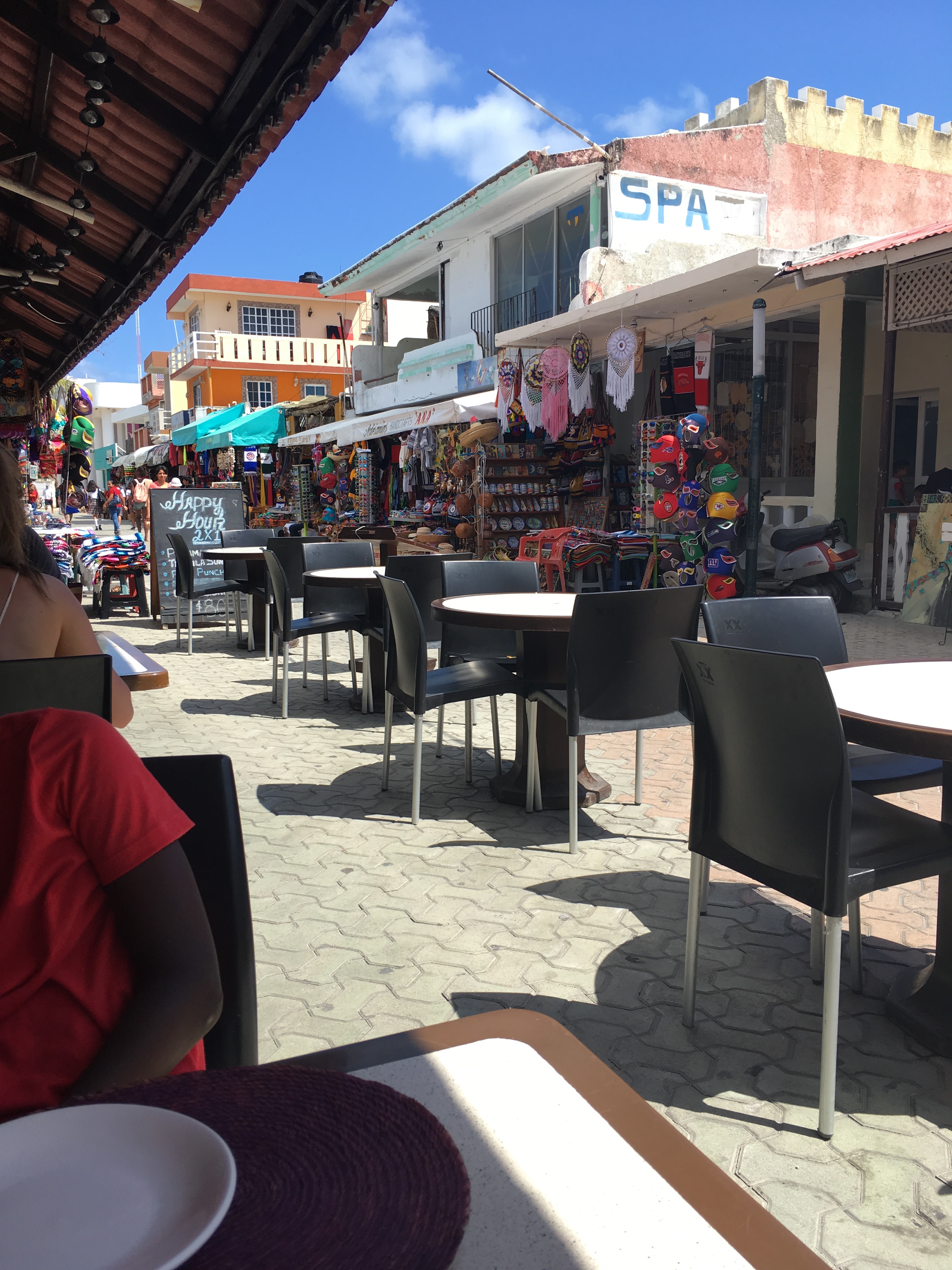 Eventually we located a restaurant, La Catrina which was delicious! I did something I never do and decided to order one meal for us to share together. My son wanted two chicken tacos and french fries. (Yes, we order french fries with everything! I blame it on my pregnancy, which is when I started the habit). Four tacos came in an order so we split it and I'm glad we did because we received four huge chicken tacos! They may have been the best chicken tacos I've had, to date. Don't sleep on La Catrina!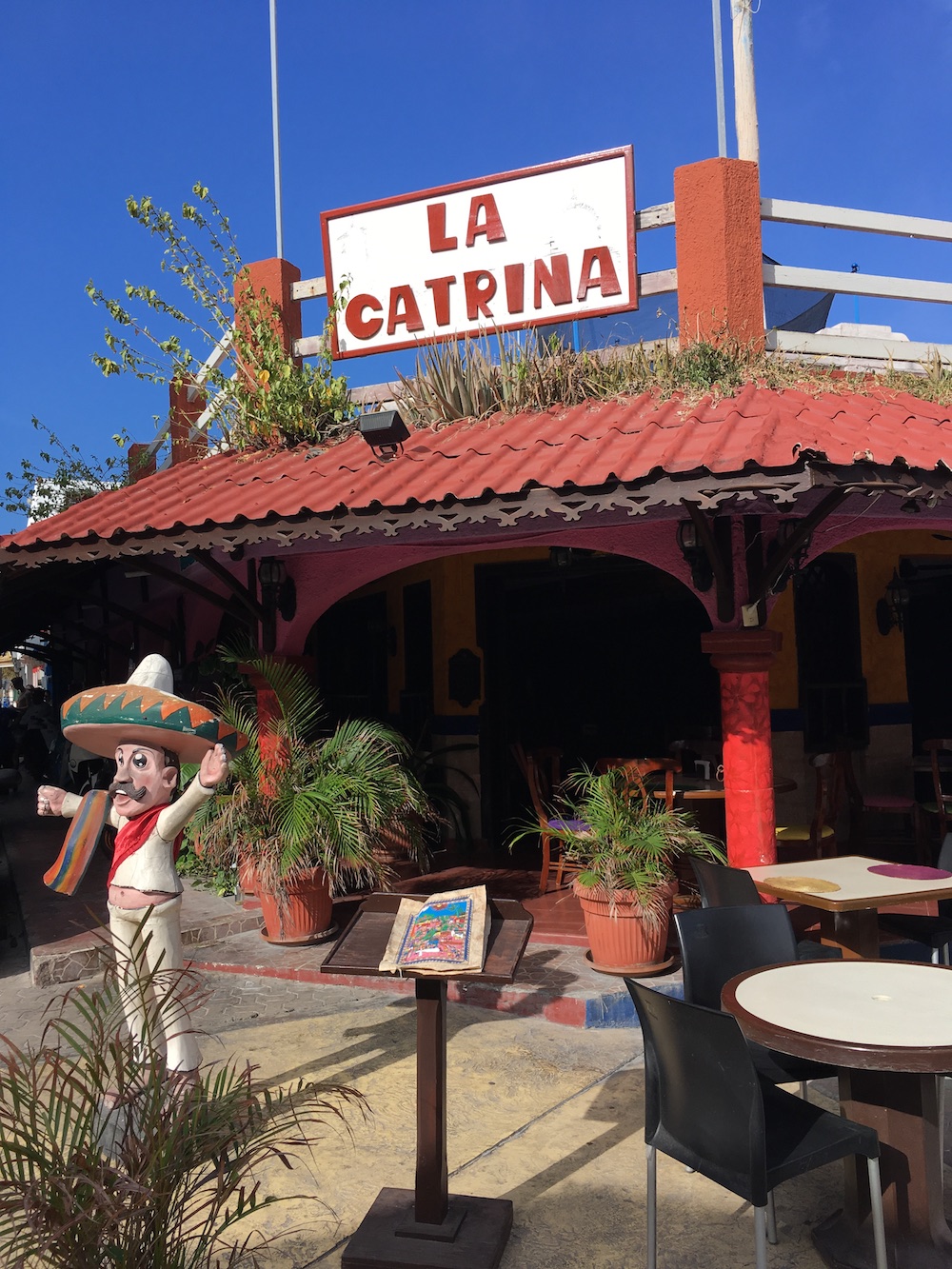 Culture Activities To Do
I'm big into culture and learning. On top of the fact that we were on a day trip so we didn't have a ton of time to sit at the beach. We opted to fit in some cultural activities.
Guadalupe Chapel
Our first stop was Guadalupe Chapel. We didn't go for religious reasons. I've learned since living in Mexico that the churches and cathedrals are generally amazing so we wanted to check it out. I'm so glad we did. I've never seen a church like it. The entire back of the church is a window looking out into the ocean. The sides are lined with stained glass murals surrounded by sculptured metal. It's simply beautiful.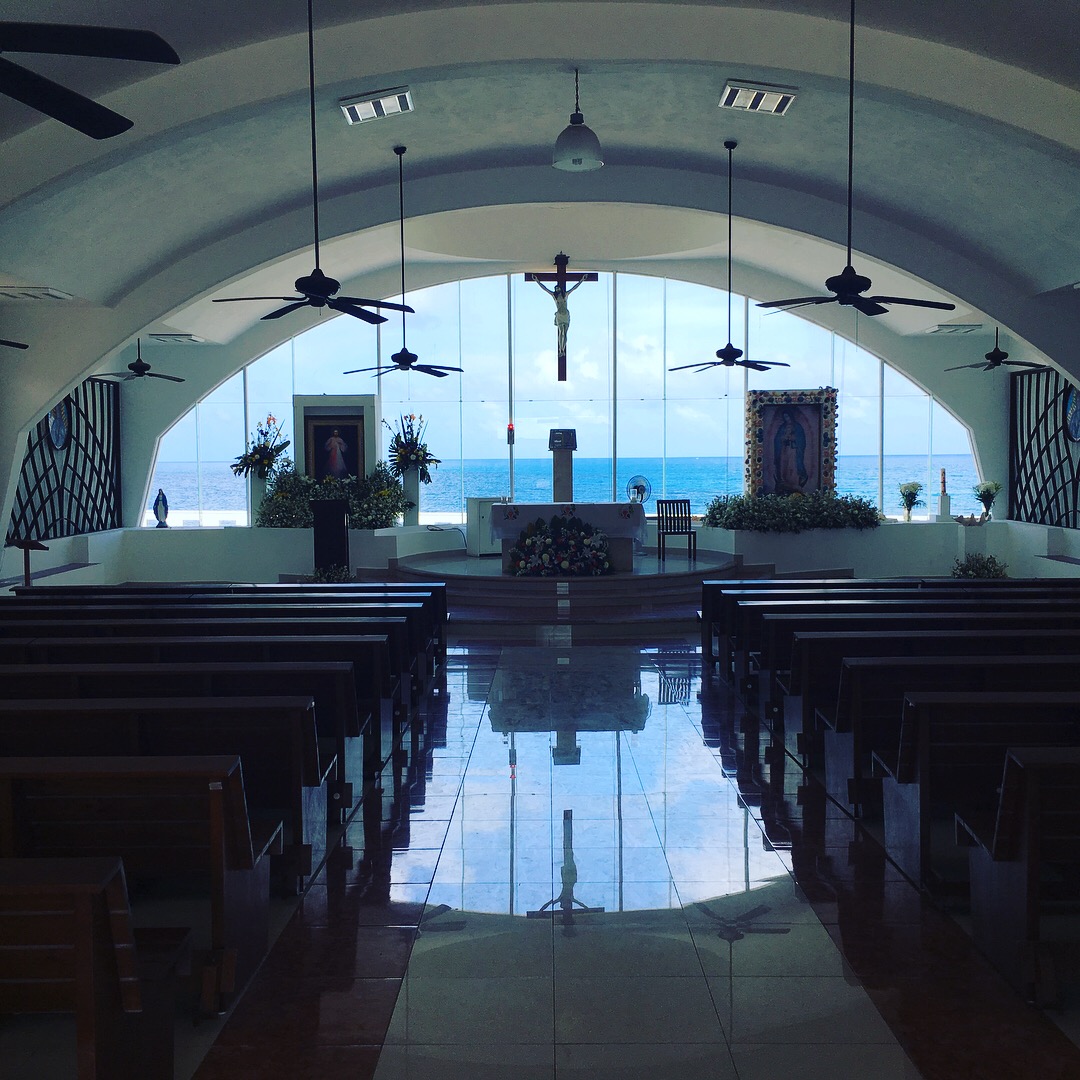 Punta Sur
Next up we headed to the south end of the island to Punta Sur, the Mayan temple and the Sculpture Gardens. I read online that Punta Sur is beautiful because it's a cliff and watching the ocean hit the cliffs is gorgeous. I will say that it is beautiful. It's serene and allows you to get lost in the beauty and amazement in nature. On the path to the point are statues and sculptures to observe and learn about.
The Mayan temple ruins, Ixchel sits on Punta Sur. It's not huge but I'll take a Mayan temple any day. I feel like I get transported back in time, imagining all they did to build these temples and how they were all over the Yucatan region of Mexico.
Last we saw the Sculpture Garden, which to be honest, isn't the greatest thing. The sculptures are old and rusted and there's a minor entrance fee. When I got to the pay counter I felt like, "hmm, I can see it all from here and I can go over there to see the cliffs for free…I'm good". I didn't feel a need to walk through the whole thing but if you so desire, it's $30 pesos. Enjoy it!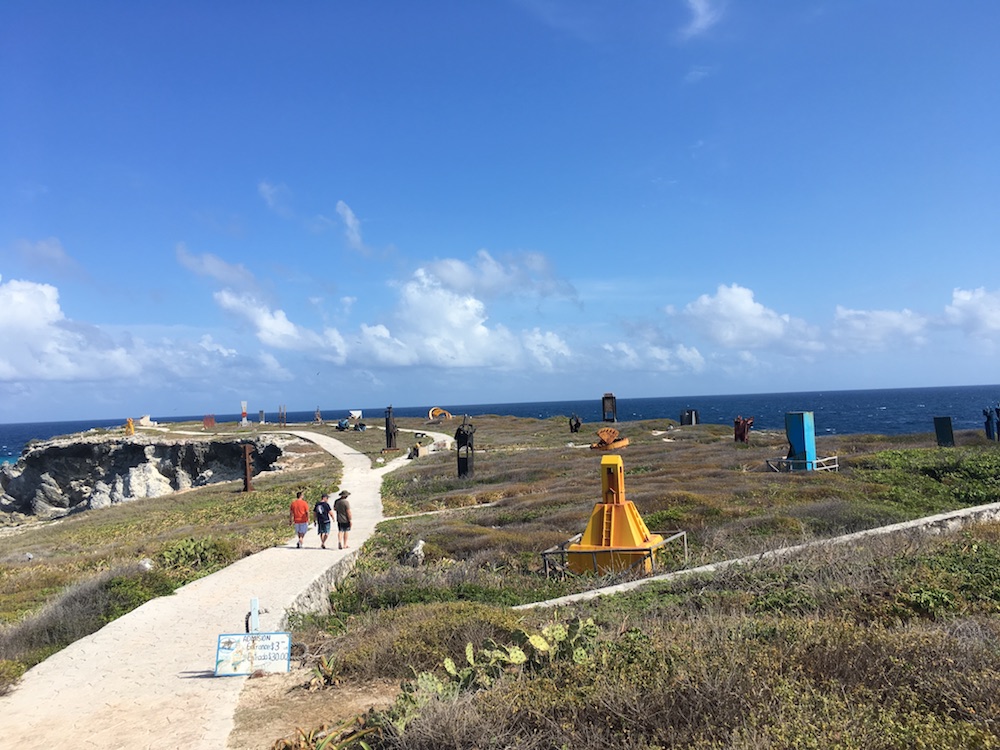 Roaming the Streets
After leaving Punta Sur, we spent a great deal of the day roaming the island. Driving around and seeing where people live. We enjoyed seeing the true island not just the tourists spots. We came up on a nice surprise while doing this too! Lost in the beauty of the ocean, I happened to look to my left and saw the famous Sea Shell house. I totally forgot the Sea Shell house is on Isla Mujeres. We stopped and took pictures and continued on.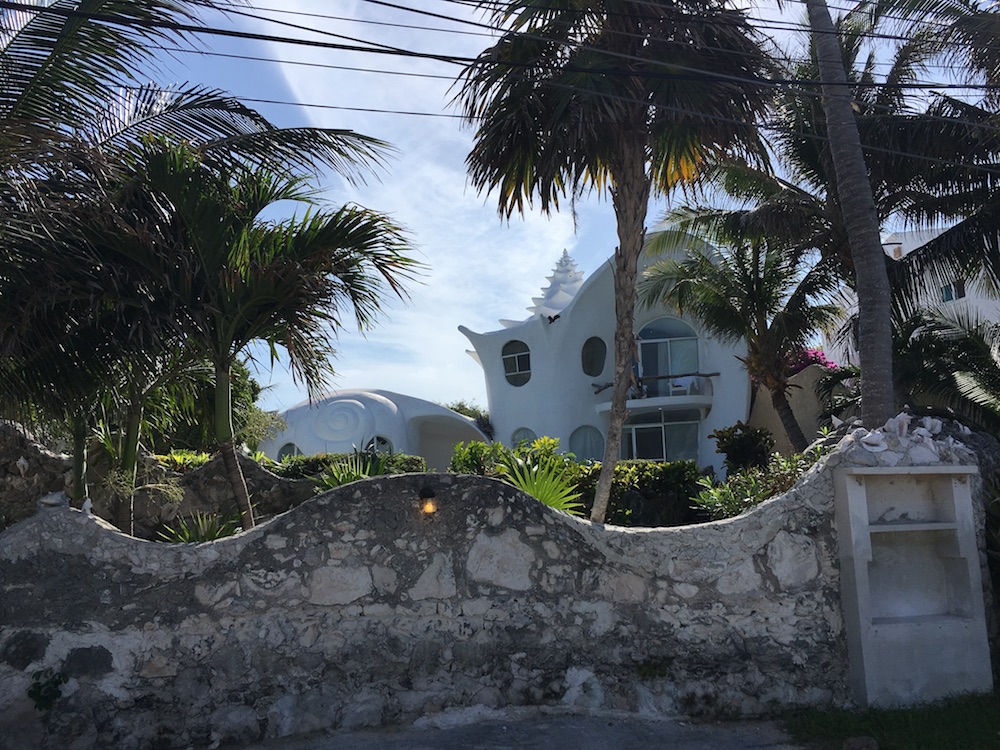 Honestly, this was our day on the island. A quick day trip to spend time together and explore this little gem. While we didn't do a ton, we did have a blast. We saw a bunch and got a true feel of the island. It makes me smile when I hear my son tell people his favorite part of our Playa del Carmen trip was our day on Isla Mujeres.
I'm not going to leave you hanging, though. Just because we didn't get to everything, I'm not going to leave out the ton of other activities there are to do on Isla Mujeres.
Quick Round Up of Other Isla Mujeres Activities
Water Parks
Parque Suenos and Garrafon Natural Reef Park: These are fun water parks with zip lining, snorkeling, pools, restaurants, and spaces for relaxing which look so fun! Keep in mind that you will pay American tourist prices to enter these parks.
Beaches
Playa Norte, Shark beach and Playa Lancheros: These beached are spread throughout the island and there's a restaurant at Playa Lancheros for when hunger strikes. Playa Norte is a popular beach in the downtown area.
Animals & Nature
The Turtle Farm and the Dolphin Discovery: The Turtle Farm is a small place where they have turtles they nurture and you can feed and learn about them. Dolphin Discovery is one of many in the Yucatan where you can swim with dolphins.
The World Famous Underwater Museum of Art (MUSA)
You know, the museum with the scultures completely underwater? Some as deep down as 8 meters. The Underwater Museum of Art is off the coast of Isla Mujeres. It's great for snorkelers and divers. Don't miss it!
Isla Mujeres is a tiny island with a big bang! It's definitely not one to be missed so put it on your travel list and enjoy everything about it.
If you liked this, please take a minute to share this article. Your travel family will thank you…and so will I!
Pin It: