When we first came to the Cancun area back in the summer of 2017 I really, really wanted to go to Isla Mujeres. However, that was my first international trip with my son and I was exhausted from life and didn't want to have to figure things out. So, we didn't make it. I try very hard to live regret-free (easier said than done) but that was the one regret I had from that trip.
This past week we were back in the area, this time in Playa del Carmen. We were further from Isla Mujeres than on our first trip but, mentally, I was prepared. I decided if there's only one thing we do while in Playa, it's getting up to Isla Mujeres and that's exactly what we did. If you've ever wanted to go to Isla Mujeres and have no desire to take a catamaran around Isla then stay tuned.
How to Get to Isla Mujeres
As I stated, Playa del Carmen is further from Isla Mujeres than Cancun is so our first step was to get up to Cancun. When I asked around, I was told the steps to take from Playa del Carmen are:
Catch the ADO bus to Cancun.
Take a taxi or public bus from the bus station to the ferry dock (Puerto Juarez).
Ride the ferry from Cancun to Isla Mujeres.
Reverse it all to get back.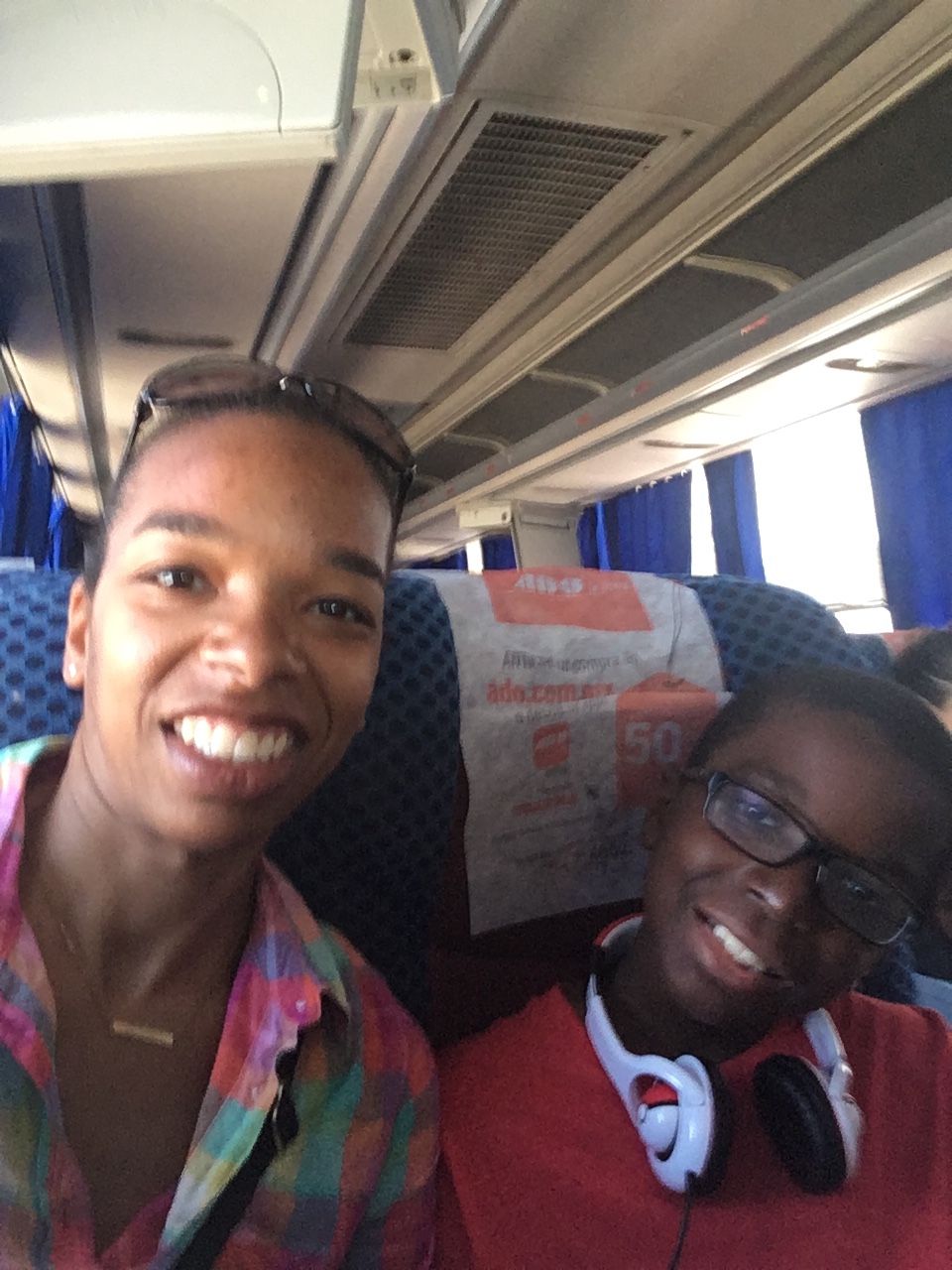 ADO Bus
This  wasn't our first rodeo with Mexico buses and I have to say, the ADO bus kept us feeling good about our love of the Mexico bus system. (Click here to read about our adventures on the ETN bus.) The buses leave every 15 to 30 minutes so timing them is no issue. Just go! Oh, and it's pronounced Ah-De-Oh.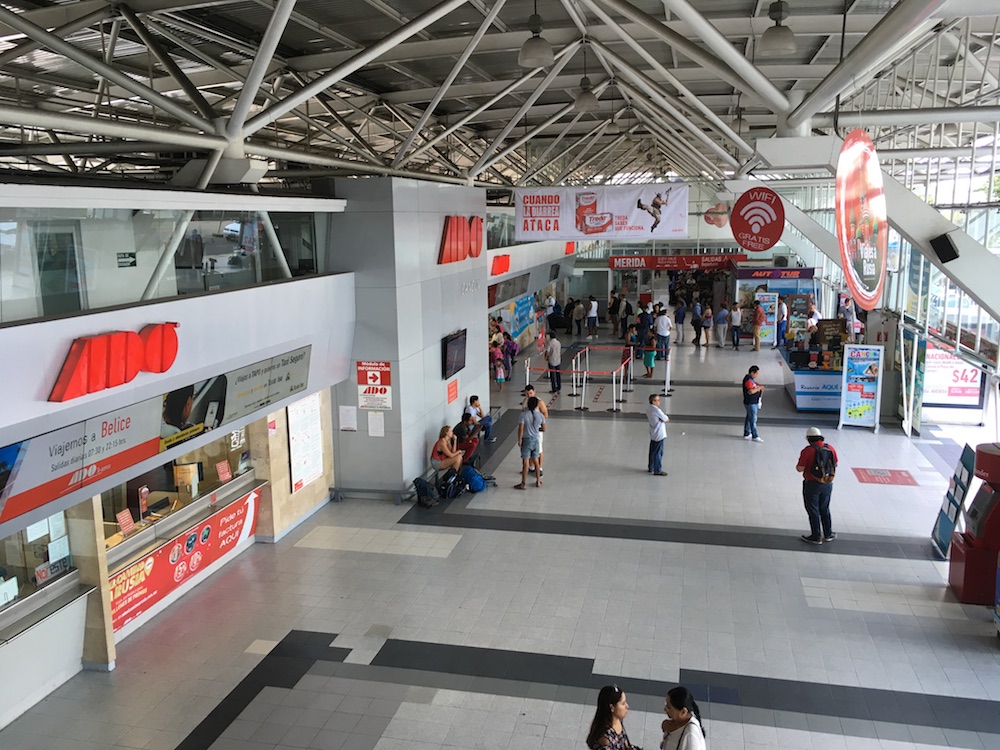 We walked 4 blocks to the bus station. I requested two tickets, with my son standing right next to me. The total for the two of us was $134 pesos and I was pretty freaking excited about it. That is so inexpensive! The joke was on me, though, because when purchasing our return tickets I happened to clarify that one ticket was for "un minor" which reduced the price to $111 pesos for both of us! Imagine my shock. Oh well, you live and you learn. Just be sure to clearly state kids tickets verses adult tickets when purchasing.
We arrived at the bus station after a chill ride on the ADO bus. During the journey, we stopped once in Puerto Morelos for a total of 5 minutes and continued on our way. The seats were comfy, a movie played for passengers and the driver was kind and drove safely. What more can you ask for?
Taxi-ing and Ferrying
Taxis are easily accessible outside of the bus station. I let the taxi driver crew know I was going to Puerto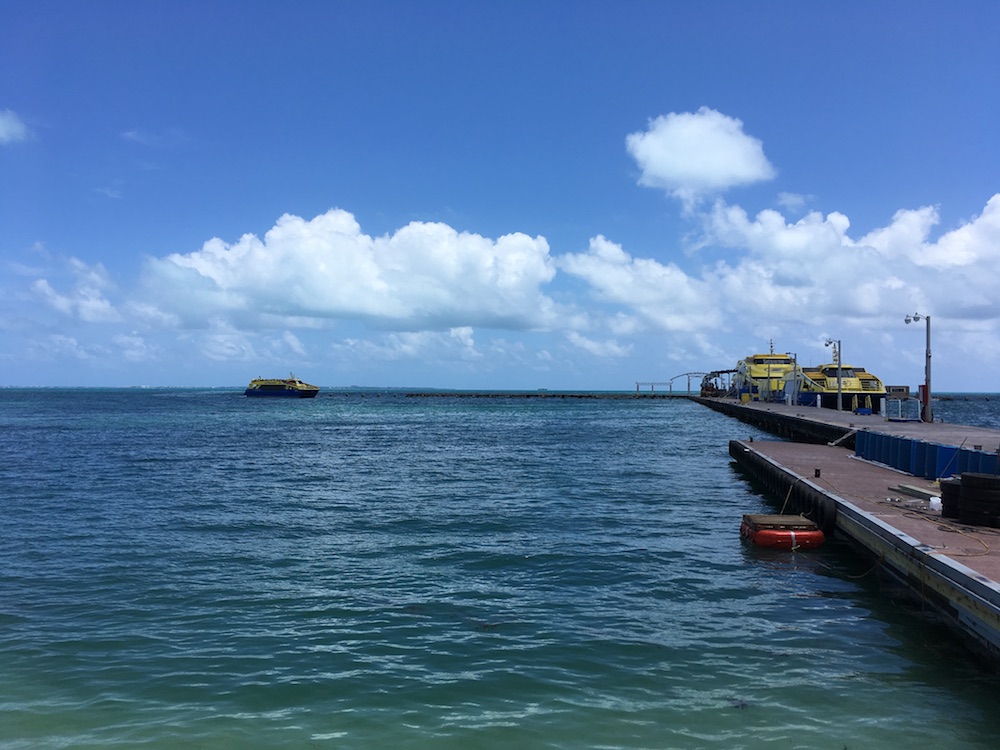 Juarez, and stated, "el ferry a Isla Mujeres" just to feel doubly good that they knew exactly where I wanted to go. One driver jumped up and told me to come with him. On the short walk, I verified the cost because it's nothing worse than already being in a taxi and they tell you some exorbitant amount. I was good with the $80 pesos he told me and we were on our way.
Once at the ferry I bought two round trip tickets to avoid having to stand in lines when hot and tired. I knew I'd want to get back and not deal with lines or figuring things out. For those indecisive folks, one way tickets are a purchase option.
Ferry Options
Apparently, there are several ferry options with various ports and a range in the types of ferries. Some older, some faster, some slower, some newer. Since the path I understood the best was heading to the Puerto Juarez port and ferrying from there, we ended up taking the Ultramar ferry.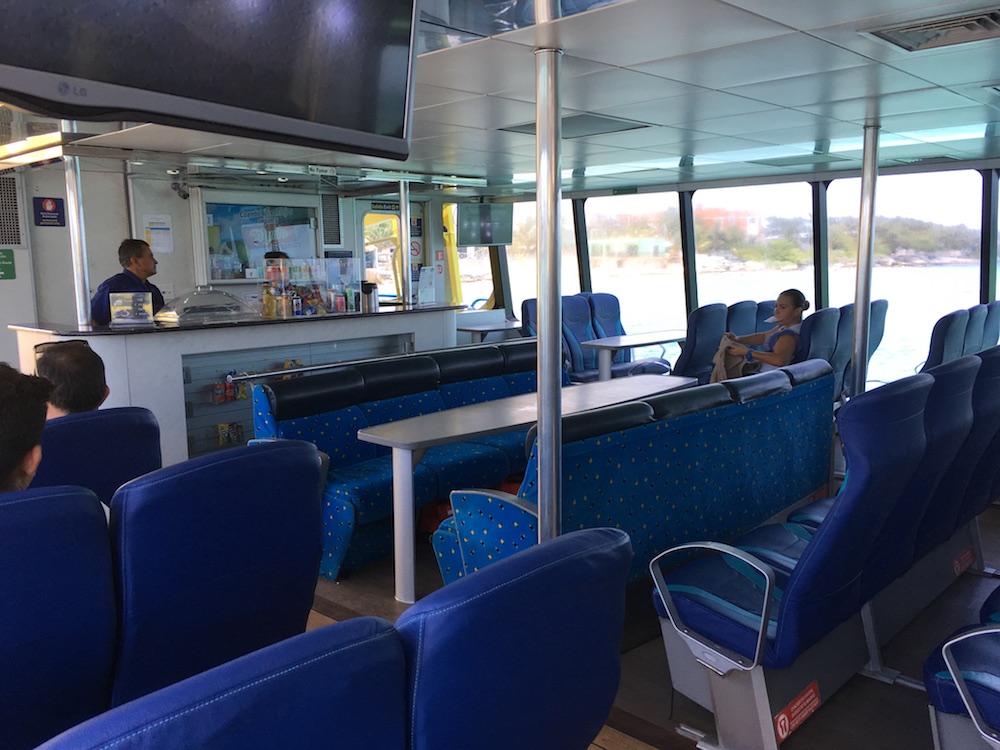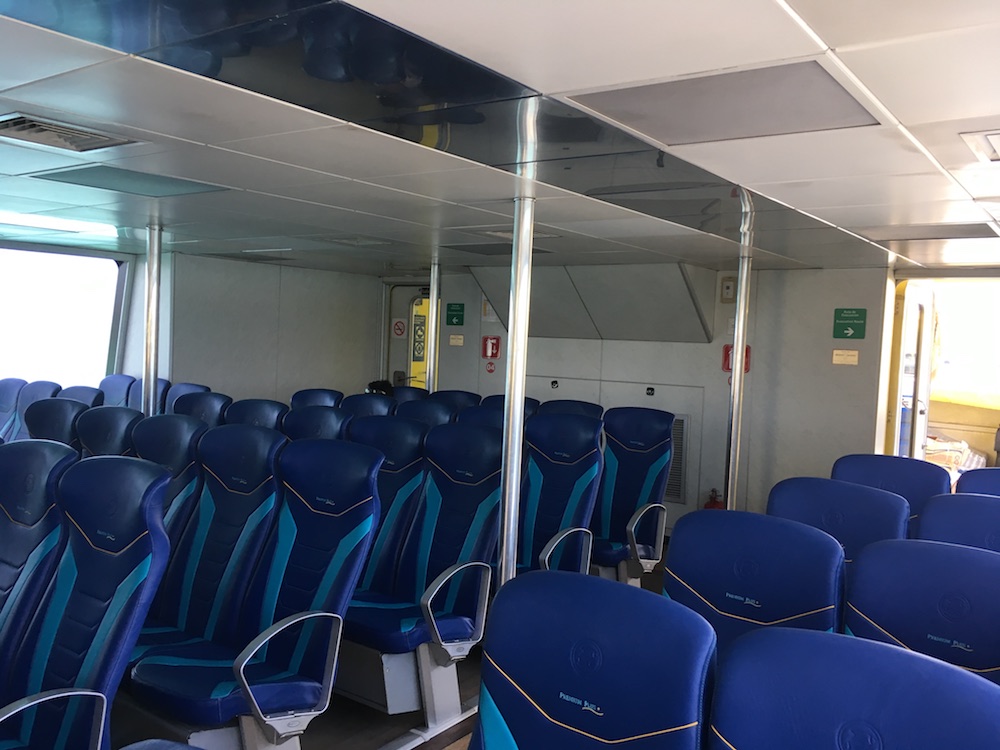 The Ultramar ferries are new and fast. The ferries are equipped with TVs, bars, outside, upper decks and inside, air conditioned, lower levels. They are clean, and most of all, they are fast! The safety video states the ride is 18 minutes from Puerto Juarez to Isla Mujeres but it felt like 10 – 15 minutes. Round trip tickets for Ultramar ferries from Puerto Juarez are $300 pesos a person. I spell it out like that because in my research, I saw prices ranging from $80 pesos to $19 USD. None of that was correct.
Golf Carts You Say?
One of the things that drew me to Isla Mujeres is the fact that people ride all over the island on golf carts. Yes, I know, that's a ridiculous reason to want to go to the island but it's my truth. There's a city south of Atlanta where golf carts are used like cars and I love that city for this reason too! Lol
As we walked up to the ferry line I saw a booth about renting golf carts. I walked up to inquire as to why I would rent there instead of once I got on the island. Bluntly, the man told me, "it's cheaper here". Well, he hit me where it matters so I signed up then and there. One reason was because he was clearly with Ultramar and had the uniform and badge to prove it. He wasn't a Joe Schmoe.
I took my receipt and hoped it played out just as he stated. Sometimes, you just have to have faith on these journeys.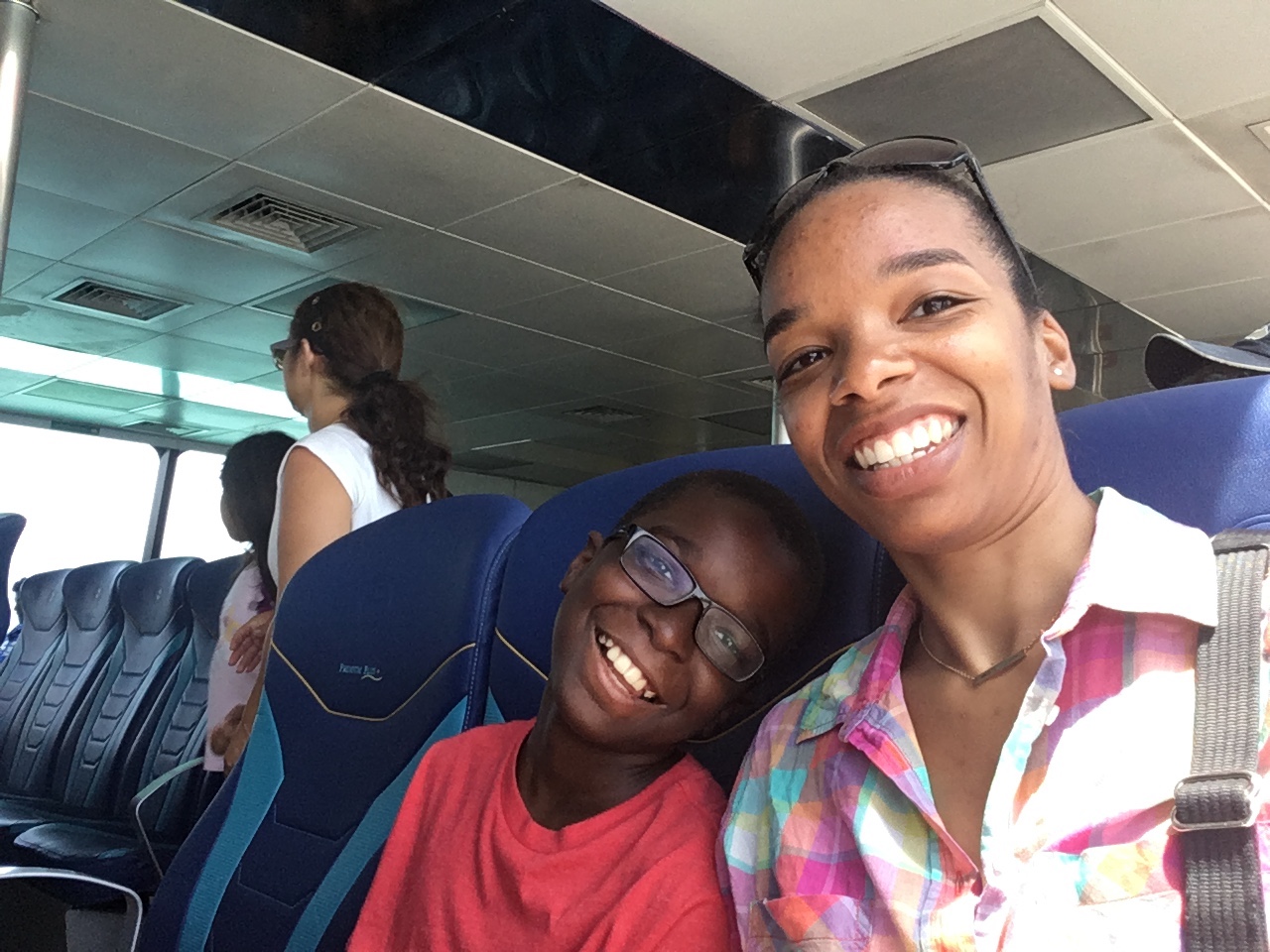 We Did It!
While waiting in line for the ferry, my son told me he didn't want to take the ferry. I reminded him that we took the Circle Line around Manhattan and he loved it! He shrugged and turned away. After arriving on Isla Mujeres the first thing out of his mouth was, "I can't wait to ride the ferry back!". Whaaaaa??!! These kids…
We made it to Isla Mujeres! Honestly, I felt like getting there was the journey. I would have been good to turn around and head home after that. LOL! Of course, I couldn't do that but it was a satisfying moment.
Look out for my next post, Isla Mujeres, The Island Adventure, where I dive into the awesome things there are to do on the island. Before you go, though, here's a break down of my costs to get to Isla Mujeres from Playa del Carmen.
Total Costs
ADO Bus Ride: $245 pesos – round trip for 2 (cheaper if I got a child's ticket on the ride there)
Taxi Ride (to & from): $160 pesos
Ferry Ride: $300 pesos – round trip for 2
—————————–
Total for 2 people: $705 pesos
Pin It: