Hear more from me on various topics …
It gets fun when I get to interact and connect with others. I primarily speak about healing from black mama trauma and moving abroad/traveling (with kids). Enjoy!
Podcasts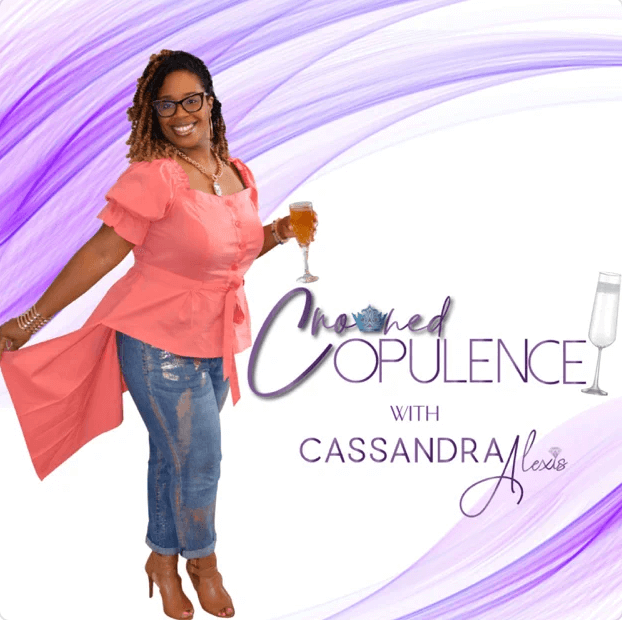 Toxic relationships can include relationships with toxic mothers. Oftentimes, toxic mothers do not treat their children with respect as individuals. When we grow up with dysfunctional parenting, we may not recognize it as such. It feels familiar and normal. We may be in denial and not realize that we've been abused emotionally, particularly if our material needs were met.
In today's episode, I speak with Aja Marie, a mom of one, entrepreneur, daughter, sister, and friend. Aja is a homeschooling mama who has found a way to use words, in various forms, to express herself and connect with others. She shares her childhood experiences and how she's making a conscious decision to raise a son that understands the power of boundaries.
In a nutshell, we speak about:
What trauma really is and how to identify it. Raising a productive, valuable child without being a permissive parent. Developing your intuition without becoming a toxic mother. Why her work specifically focuses on the relationship between a black daughter and a black mother. Some of the traumas that Aja has seen beyond some of the obvious things. Healing from the trauma caused by our mothers.How she's chosen to be intentional about how she interacts with her son. How culture affects the kind of person that someone becomes. Aja is on a mission to help women recognize and heal from black mama trauma. You don't want to miss the valuable information she shares in this episode! Click here to listen now.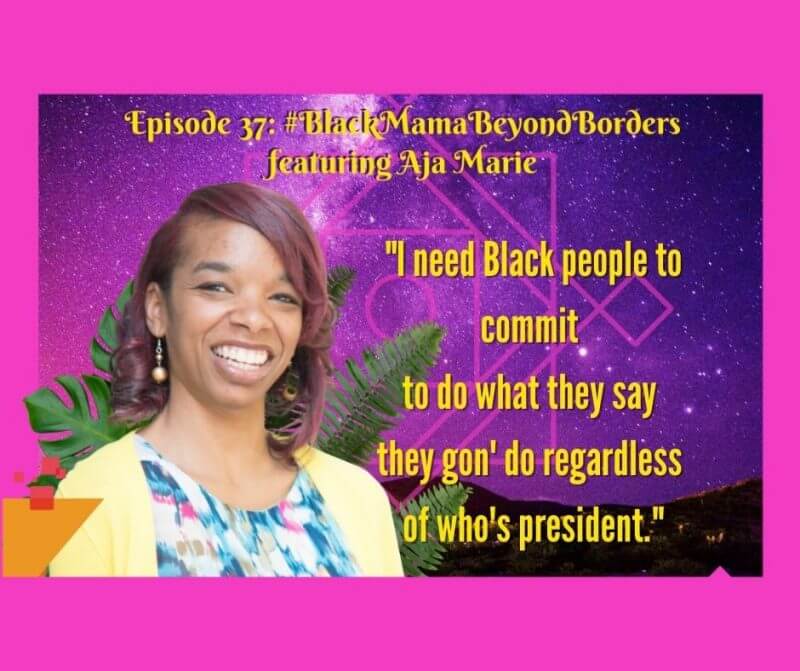 In this episode we talk with Aja Marie who has spent her life digging into the places most don't want to go, facing fears and learning to come out on the other side exactly as she desires. A former 'American Dreamer', when she realized that dream wasn't hers, she ditched everything she hated and her son hated that  to pursue everything that lit them up . That led to long term travel, closer connection with her son and challenging them in many ways.She's since lived in Mexico, become a homeschooling mama, and has found a way to use words, in various forms, to express herself and connect with others. Mom of one, entrepreneur, daughter, sister, friend. Aja believes many times your pain isn't just for you but to help others experiencing similar things. "I must be here to do something great because God wouldn't put me through all this for nothing!" she says.  Aja inspires others through her work, which focuses on recognizing and healing from black mama trauma.  She is the person behind the blog Doing Life Afraid, the author of The Path to Freedom: The Extended Travel/Moving Abroad Workbook and the voice behind She Said We Shed Podcast, a reclamation project for defining a motherhood that acknowledges and helps us heal from the unresolved trauma-induced parenting practices among Black mothers. The pod is not about dragging Black mamas, it's about healing. Click here to listen now.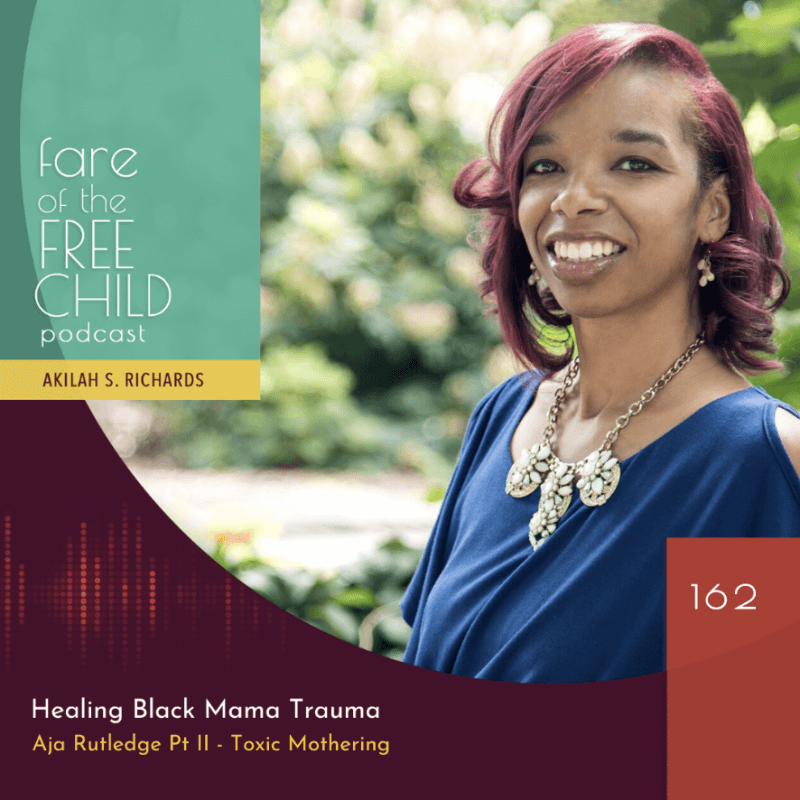 Aja Rutledge: A single mother who moved abroad to Mexico with her son to design their liberation, moved back to the U.S. and ended up staying with her mother longer than anticipated. Aja has been realizing how much her mother's baggage affected her own sense of worth and value, as well as her approach to parenting her now 13-year-old son. A few weeks ago, on Episode 160 we talked with Aja about the pain of being raised with trauma through the vessel of Black mothers, and her new podcast She Said We Shed. In that episode, we talked about "why" she's doing this podcast and "what" the problem was…in detail. Those of you who listened to that episode (if you didn't, please go back and do so) because in this episode, we're going to continue that conversation and touch on "how". She Said We Shed will not only look at and discuss the impacts of toxic mothering but also how to move into and within practice mode. Aja will speak on learning how, what and why we need to begin shifting our awareness in order to heal ourselves and treat our selves and children with respect and love.Aja has been focused on this work and we believe it would be useful for us to hear about the direction–the pivot. Click here to listen now.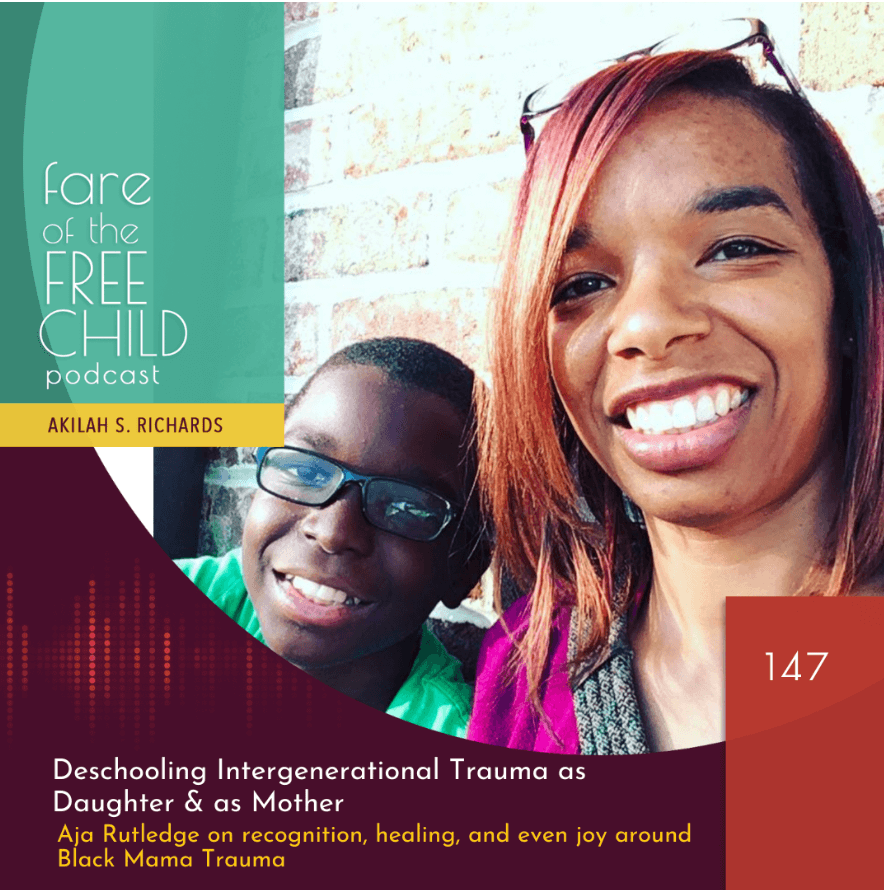 They say if you need to see just how well your healing is going, go be with your family for a week. The triggers, the baggage, the habits, all of it comes racing back, forcing us to reckon with the reality that healing work can be done, but most times, it's never really done, it's in progress. This week, repeat guest Aja Rutledge, joins us to speak with candor and unquieted assertion that Black folks need to stop saying our toxic mothering experiences are normal and okay. Not all of us are okay, and Aja is deeply committed to calling us to the spaces where we can acknowledge, name, and work toward healing the effects of what Aja calls Black Mama Trauma.
When Aja and her son moved back to the U.S. after their natural learning travels took them to Mexico, they ended up staying with her mother longer than anticipated. Aja has been realizing how much her mother's baggage affected her own sense of worth and value.
Who am I? What do I like? What am I healing from? How is my relationship with my parent playing out in my relationship with my child? Those are the questions that have been on the rise for Aja, and she is not willing to leave them unanswered. Listen and connect as Aja talks about what she's feeling, observing, and moving toward as she deschools herself and makes room for her son and her to continue cultivating a holistic, authentic, trust and respect-based relationship. Click here to listen now.
Aja is a woman living life on her terms. Four years ago she quit the American dream, moved abroad, and designed her own business. She also started homeschooling her son. Aja hosts the podcast, She Said We Shed which helps black women heal from black mama trauma and become the mothers they desire to be. Click here to listen now.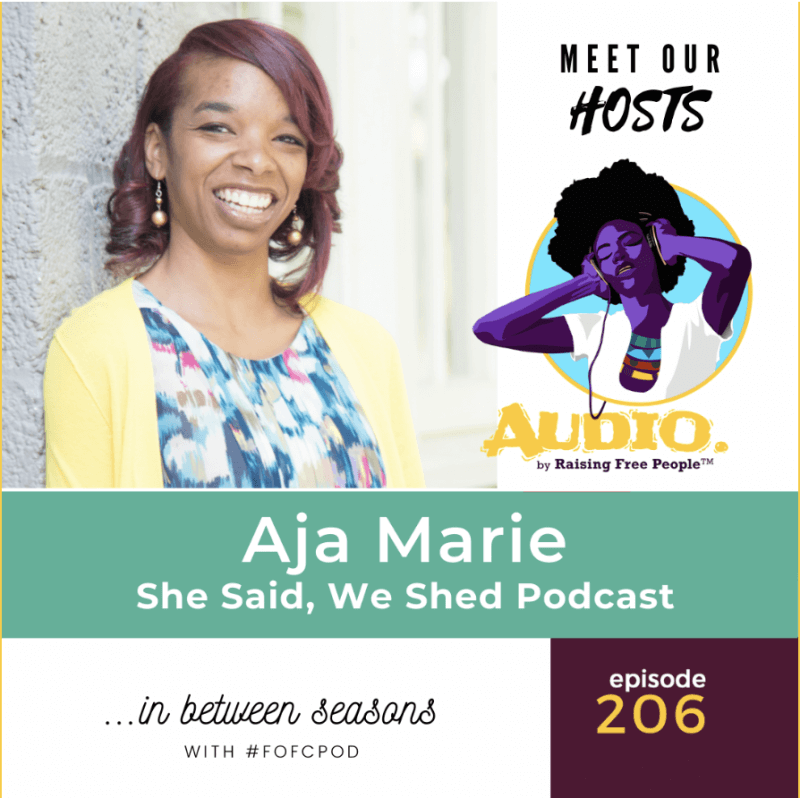 This week we chat with Aja, single mom, freelancer/entrepreneur and unschooler who has lived outside of the United States – host of She Said We Shed Podcast.
"Created by Aja, and produced by Raising Free People Network, She Said We Shed is a reclamation project for defining a motherhood that acknowledges and helps us heal from the unresolved trauma-induced parenting practices among Black mothers. Aja is raising her Black son while healing from the trauma of being raised by a woman who didn't heal from whatever harmed her. Black mama trauma is the topic, and honest, love-centered, reclamation and healing are the intentions. Join Aja as she and invited guests get vulnerable and deliberate about legacy shifting with support, back-up, and truth-tellers."
Akilah and Aja speak on Black motherhood, intergenerational trauma, privilege in relationships, setting boundaries (even with our children), and healing work that includes more than praying and going to the "good doctors." Click here to listen.
Aja's healing work is specifically related to her relationship with her mother and that's what's being discussed today. She's going to go from just having a conversation about it to really having this massive movement around legacy shifting related to Black mama trauma. Has it been dominant in her life? She says it has. She grew up without a father and with a single mom who was her primary caretaker and thus formed her view of the world from that upbringing. She felt she was more oppressed than cared for so recognizing and trying to heal from that was work. Work that many of us are familiar with in different ways that shows up in various relationships in our adult lives. Motherhood is one of those ways it shows up. Click here to listen.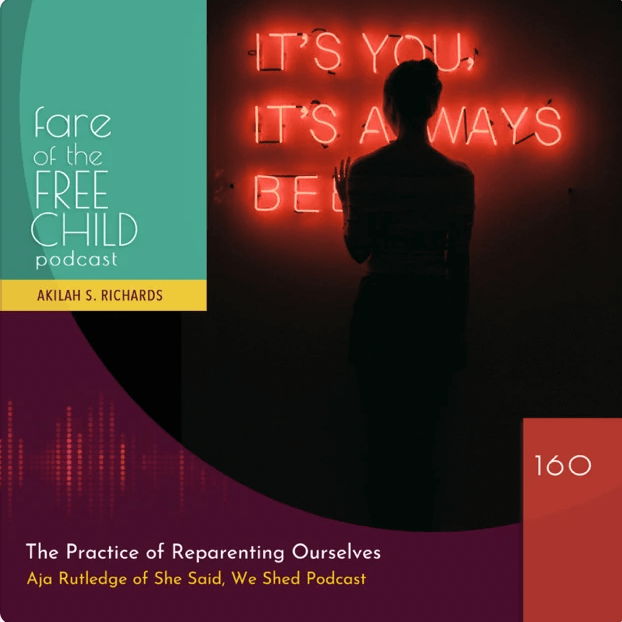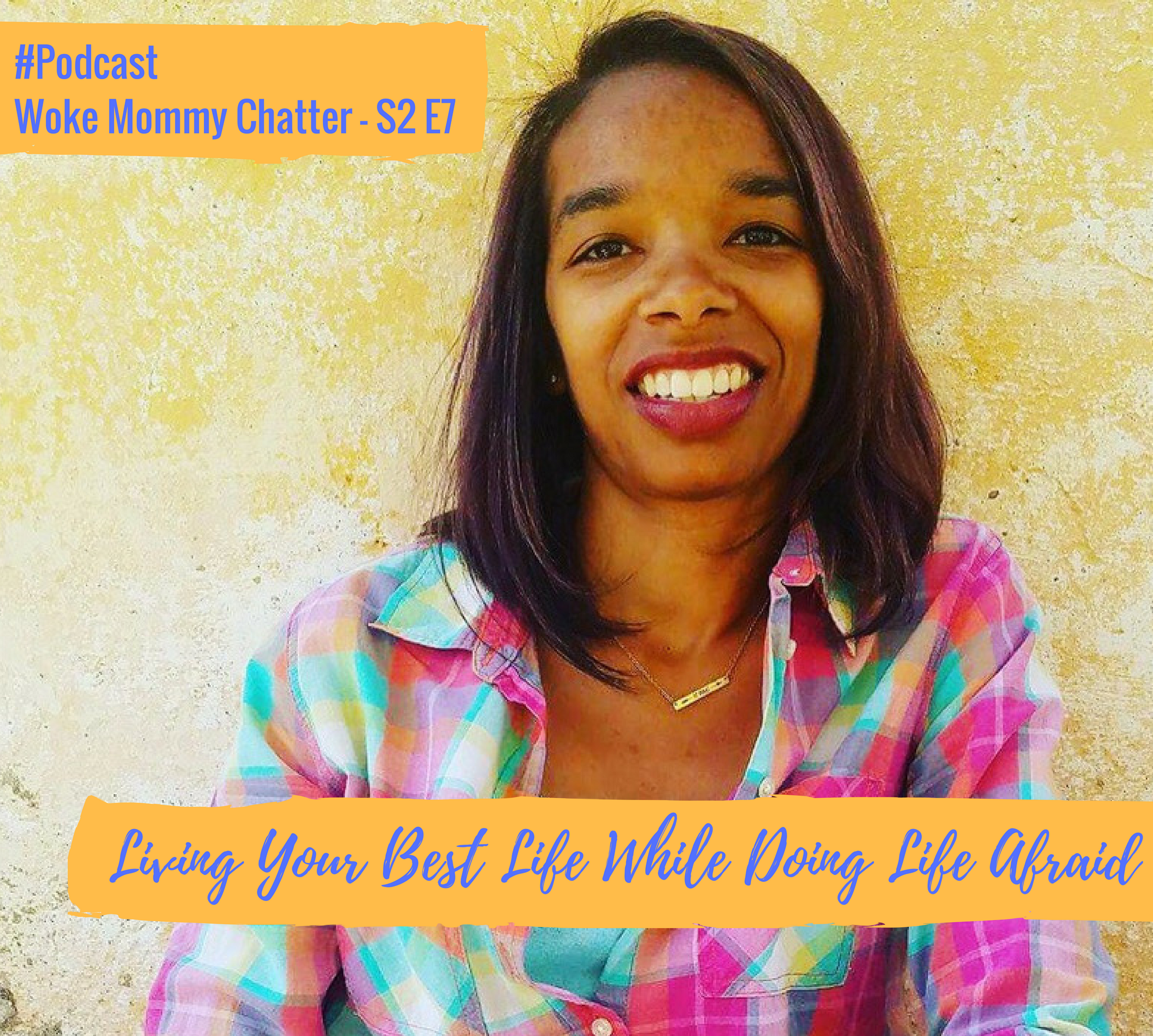 Woke Mommy Chatter
"Imagine this…You are living in Atlanta, Donald Trump has just won the election. You are shocked, you are in disbelief. You look over at your young son, his Black life matters more than anything in the world to you. Like so many Black mothers in the US, you worry for his future, you stress at the education systems private and public that are failing him, you worry about the preconceptions about his Black body that could cut his life short,  so the next day, you wake up and put in an application for a passport. In a year, you'll be on a plane headed for Mexico, scared, but sure that at least for now, you're making the right decision. Meet Aja Rutledge. This is her story." – Woke Mommy Chatter Podcast
Listen on iTunes here.
Listen on Libsyn here.
Listen on Soundcloud here.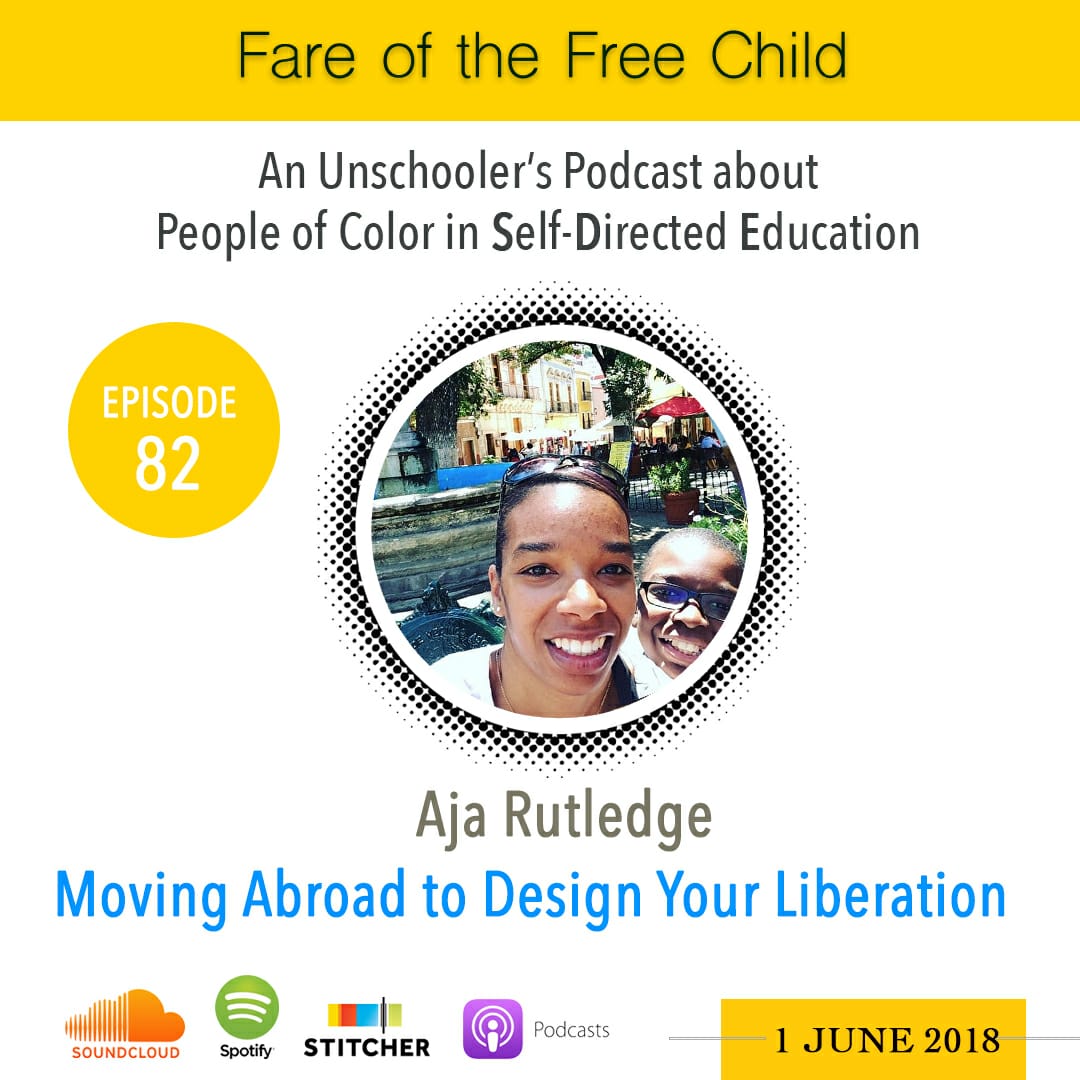 "Single Mom Travel: Here's the story of Aja Rutledge, a single mother who moved abroad with her son, to design their liberation: Put your kid in public school, you fight through the fight, and you build your life around the best school district you can afford. And you find a good job to help you fund this life. But one day your son comes home and says, "Can you please put me in a school where they get me?" A year later, you're on an unschooling path, living in Mexico with your son, and a growing community of other people who are learning how to live out their liberation and make room for their children to live out theirs too." – Fare of the Free Child Podcast
Click the link to check out the podcast online or to listen on iTunes, Soundcloud and Stitcher.
On this episode, Aisha is joined by Aja Rutledge, a single mom who is a travel blogger, lives internationally with her son, and owns a travel agency.
We discuss how single moms can travel, have amazing experiences, and create great memories with your children. This podcast episode shares tips on:
The best places to take children as a single mom
How you can find the best deals to make travel more affordable
How to conquer any fear about traveling
The top things that you may not think that you need to bring or be prepared for on your trip
Groups to connect with to get notified about deals and to connect with other moms who love to travel.
Listen to the podcast episode below or check it out on iTunes, Google Play, and Stitcher.
Articles/Blogs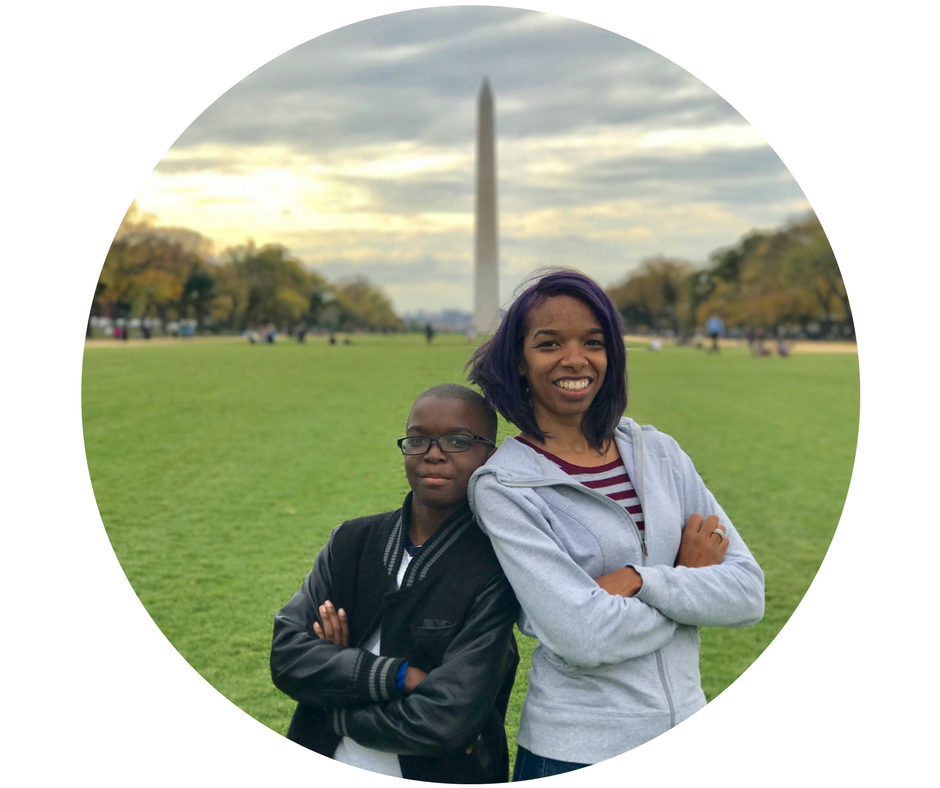 "At some point, an awful and uninformed human took it upon themselves to spread the most horrific urban legend ever. It was the tale of "You won't be able to travel once you have children." HMPH. See exhibit (A) which appears to suggest that motherhood and passport stamps can't operate in the same universe." – Tanai Benard
Click here for the full article.
Guest Post on the "Children In Motion" Blog
"As a kid, I was in the public-school system, first in NYC then in Atlanta, GA. I thought that was the way it was; some kids went to public school while others went to private. Then I had my son and in raising him my eyes have been opened to so many options that I never knew existed before.
I took the path a lot of parents do and searched for the best elementary school for my son. I moved into a different county to get him in one of the best schools in that county. Kindergarten went well. The teacher was great, and she was so helpful and attentive to my son. She'd always mention how my son reminded her of one of her boys. I didn't fully grasp the weight of this until my son moved up to the 1st grade.
Everything went downhill at this point."
Click here for the full article.