This trip was hosted by Visit Philly. All opinions expressed here are my own.
Growing up as a kid in NYC, going to Philadelphia was nothing more than a trip to visit family.  Knowing I was going with my son, I decided to find things to do in Philadelphia. I was so incredibly surprised at what we found! Philadelphia is a perfect family vacation destination. One of the things that I loved the most is the ability to easily merge education and fun all together; especially, since we're homeschooling.
Put Philadelphia On Your Destination List
I'll be honest with you. The main reason we headed to Philly was for a family wedding. Like I said, Philadephia has always been a trip to visit family, for me. I've noticed a change in me though. I'm not sure about you but as I travel with my son, I find I travel differently. I'm looking for different things and I'm determined to make wherever we go fun. This led me to explore more of the things to do in Philadelphia. After our experience, I'm almost embarrassed at my lack of respect for the city as a visitor's spot. So you're probably like, jeez…what is there to do?! Ok, ok, here you go.
The History Walk
My aunt and cousin decided to head to the Liberty Bell and being me, I decided we'd be up and ready to join them! You seriously cannot cannot do all the things in Philadelphia without checking out the history. We stayed at The Cambria Hotel on Broad Street. This was a perfect location to walk to Liberty Park as it's about a 15 minute walk east (I believe…don't quote me!).
On the way to Liberty Park we came across the Declaration House. This is where Thomas Jefferson wrote the Declaration of Independence. The House is open to the public and recreated to reflect the period of Jefferson's occupancy. We didn't get a chance to go inside but enjoyed the surprise of stumbling upon it. You can read more about the Declaration House here.
Liberty Park Run Down
After walking a bit more we came upon a whole world of history! The Liberty Bell and the Liberty Park Visitor's Information Center are just the tip of the iceberg. Many of the attractions I list below can be found in and around this area. Upon arrival at Liberty Park, I learned that all of the attractions are free and open for walk-ins except Independence Hall. Independence Hall is free but you need tickets. (This is the same for the National Museum of African American Culture and History in Washington D.C. You can read my review of it here.) Tickets for the day move quickly as we arrived around 11 am and the tickets were sold out . The caveat is, after 4:30 pm it's a free for all; no tickets are needed. I also learned that one person can get 10 tickets so if you send out a "runner" first thing in the morning they can get tickets for everyone.
The Liberty Bell
Our first stop was the Liberty Bell. There was a line but it moved fast and there were exhibits along the walkway into the building to hold your attention. My son was not fond of these exhibits. It's just not his jam but I enjoyed them. Once inside, visitors are required to go through screening and then you're on your way.
I, honestly, thought we'd walk in, see the bell and walk about. I know; a mess. I was wrong. There's a whole display of history. The crack is explained. Reasons were given for why the bell was created and what it was used for. There's a deep link to slavery with the bell, which I don't know if I knew and forgot or I just never knew that. We may have spent a good 30 minutes in the building before we ever got to the bell! Luckily, once we did make it to the bell, it wasn't anti-climatic.
Congress Hall
Our next stop was Congress Hall as tickets were sold out for Independence Hall. We managed to get in with a quick 20 minute tour and learned some of the history of the building and the original congressmen and senators. To our surprise, the Senate used to meet on the 2nd floor, just above Congress.
My son actually really enjoyed this building and the tour guide's overview. It was quick, informative and included some humor (don't miss the story about 2 Congressmen coming to blows).
Fun Around the City
Reading Terminal Market
The next day we began at Reading Terminal Market. This is a staple of things to do in Philadelphia and not to be missed. All kinds of things are sold here from soaps to crafts to food..mainly food! Foodies, this is your place! There are doughnuts that are filled as you wait. Soul food that had a line around the corner. Milkshakes that overflow with goodness. There are also fresh stands for purchasing produce, meat and more!
Take a Walk Down Benjamin Franklin Parkway
Somehow, I'm not sure how, we ended up walking down Benjamin Franklin Parkway. This was an unexpected activity and come to find out it's really one of the things to do in Philadelphia. It was a nice walk and was full of so much to see and do. There are murals to see. Art sculptures line the streets. We came across a beautiful fountain. The fountain confused me, though, because people were walking around in it. I had never seen that before but to each his own. <<shrugs>> The city's big museums and the Free Library (which is what they used to be called) are found along this walk and it ends at the Rocky steps (from the movie Rocky – in case you were confused…because I was for half the walk <<insert eye roll>>).
Phlash Bus is a Great Way to Get Around
The great thing about Philly is it's easy to get to all the attractions using a bus line called the Phlash Bus. Since we walked so far, it was a no brainer to catch the Phlash bus. All stops can be found by Phlash Bus signs that are posted to poles near attractions or main streets in the city. We also liked it because we decided to head to Penn's Landing which was pretty far from the Rocky Steps and it gets you there. A $2 ticket gets you to one destination. A $5 ticket gets you unlimited rides for a day.
Penn's Landing Pier
The bus dropped us right at Penn's Landing Pier on the Delaware River. At first, I was wondering what in the world would we do there. After walking down the stairs, I realized there was an outdoor roller skating rink, carnival-like attractions, a ferris wheel and even a funnel cake stand. Since I had two tweens and my sister with me, I knew we'd be enjoying this place for a while. Being on the water made a beautiful backdrop to the experience; even with the cloudy day we had.
Franklin Square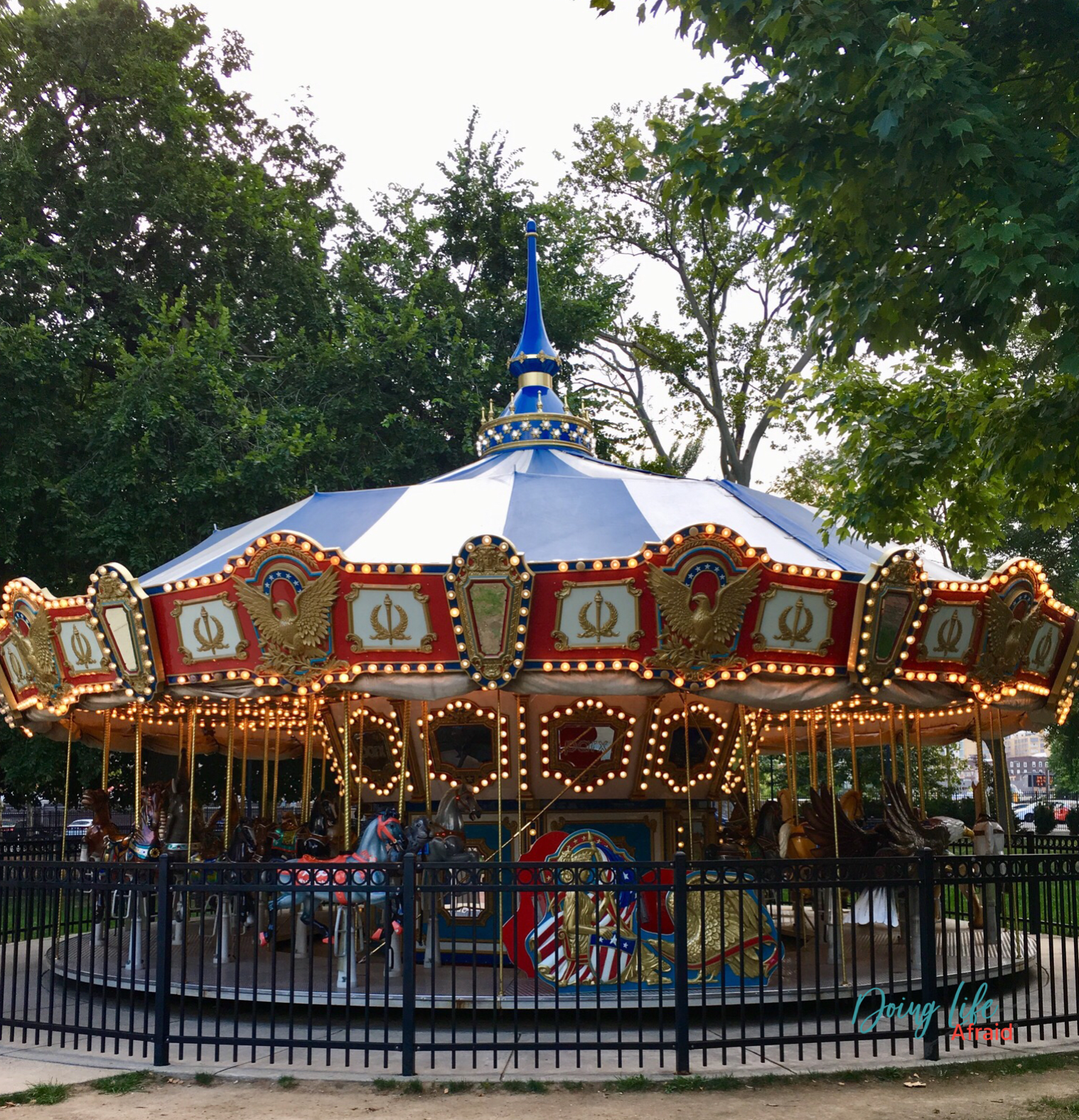 Franklin Square is one of Philadelphia's original 5 squares. In addition to the history, it's home to a really nice fountain, a carousel and a Philadelphia themed mini-golf course. We couldn't help it; we did it all! Of course, the carousel is quick but enjoyable. Somehow the kids were on different horses when we stopped than when we started. Hmmm… The mini-golf course is a lot of fun. We really liked that we saw many of the attractions we had actually visited or seen on the course. It became like a trivia game as we played golf. "What's this building? Where did we see it?" If you're family loves mini-golf, this is a course to get to.
Time To Take Your Family to Philadelphia
As you can see, there really are so many things to do in Philadelphia for families. What I love is that the Visit Philly tourism board knows the gems and vast amount of things to do in Philadelphia. They make it so easy to create the perfect family trip to Philadelphia and even have packages already created that include hotel, activities, food and ride share! Click here to get the deets. As a frequent traveler, I embrace "easy" when I can. My family had a blast turning a wedding trip into an amazing visit to Philly. I'm sure your family will enjoy it just as much!
Things To Do in Philadelphia
Here's a quick run down of things to do, some of which were included in this post and others were not.
and so much more!